ASML stock has gained 78.32% since July 2020 and is up 547.54% in the past five years.
Asia's semiconductors shortage gave room for ASML to improve operating margins in 2021.
The US is looking to unlock more than $250 billion to enhance national semiconductor production and drive demand from Asia.
ASML Holding (ASML) sees a +0.01% price change on July 21, 2021, from the previous day's close. The stock has been on a positive trajectory in the past month, adding 1.93% and 40.24% in the year-to-date analysis. It has gained 78.32% since July 2020 and up to 547.54% in the past five years.
As the world's leading semiconductor supplier, ASML traded at $684.05 per share on the day. It gained 0.88% on post-market trading at $690.10 ahead of its Q2 2021 earnings date release on July 21, 2021.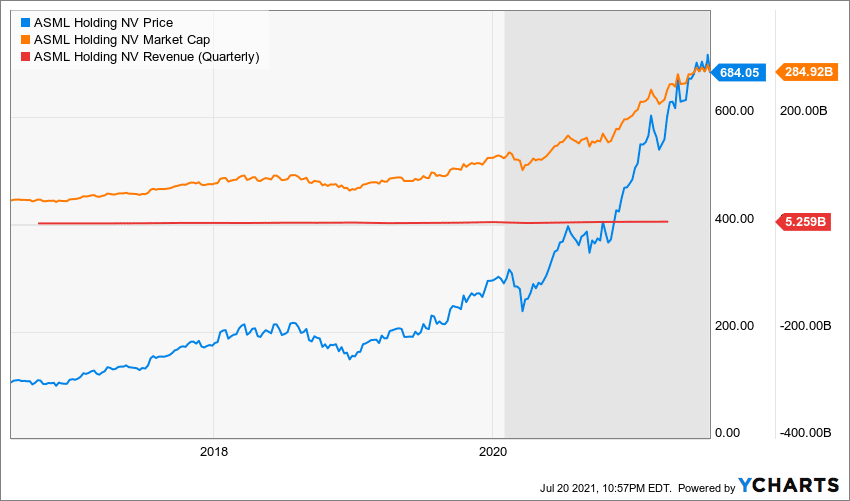 Over the five years, ASML's market capitalization has increased 536.4% (to $284.92 billion), while the quarterly revenues added 159.6% to stand at $5.259 billion as of Q1 2021. ASML has affirmed its position as a long-term stock. The shaded area in the chart above shows that the growth in ASML's market capitalization was realized during the pandemic, as noted by the shortage in the supply of semiconductors.
The essence of semiconductors in vehicle production became clear when Subaru closed its Japanese plant due to a shortage in Q1 2021. There has been a slow rollout of the 5G network due to microchip supply disruption. Other companies such as Apple and Sony's PS5 were optimistic about the improved supply in the second half of 2021 to boost their production.
EUV demand into Q2 2021
Despite slow output in Q1 2021, ASML saw a rising demand for Extreme Ultraviolet (EUV) lithography technology used in printing microchips. The use of EUVs allows chip-making companies to produce smaller microchips (cost-effective) and transfer them on wafers. Apart from costs, chip manufacturers consider sensitivity and overlay control is essential in maintaining higher output.
ASML is hoping to increase the deployment of EUV (among many customers) in Memory by adopting advanced nodes. By adopting a new lithography machine NXE:3600D in Q3 2021, ASML is hoping to increase its productivity (and improve shipping) by 15%-20%. This system will also allow the company to make 30% additional EUV revenue as compared to the NXE:3400C lithography system.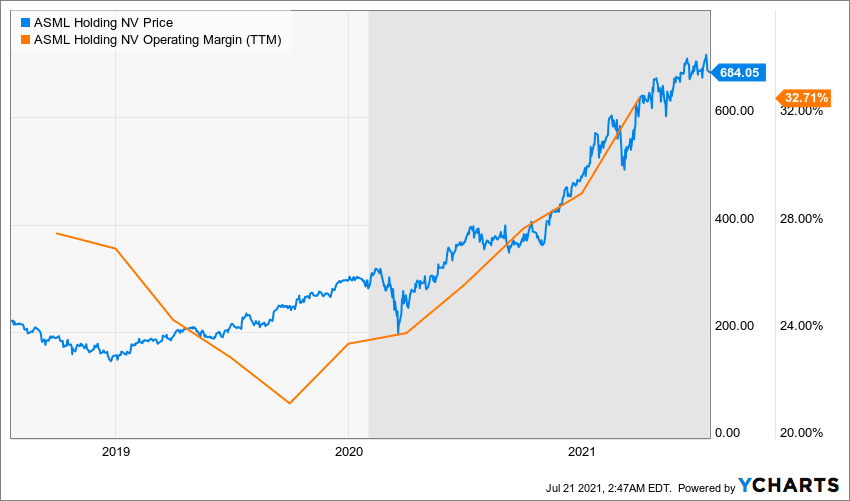 ASML is looking to drive its operating margin above 32.7% with EUVs of higher value. On an annual basis, the company has been spending about €600 million since 2011 to get the company from Low-numerical aperture (at 0.33 Na) EUV to High EUV (at 0.55 Na).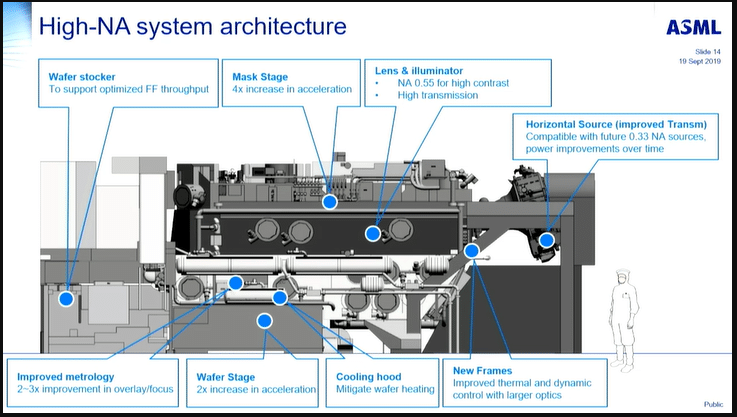 This advancement will help the Dutch company take over US customers from China during the infrastructural shift.
US-China trade war
The US Congress passed legislation to unlock more than $52 billion as an investment to expand the national production of semiconductor chips. Under the US Innovation and Competition Act (2021-2022), America seeks to expand its scientific innovations in artificial intelligence (AI), quantum communications (QCs), and other advancements that require chips.
Over-reliance on semiconductors from China, Taiwan, and Japan led to an acute chip shortage that disrupted the manufacturing space. The US market is likely to expand to more than $250 billion as the government seeks to identify companies with high processor technologies that are now centered in Asia.
Technical analysis
ASML stock hit resistance at $720 with a lower EPS estimate at $2.94 from $3.85, likely to drive the price lower.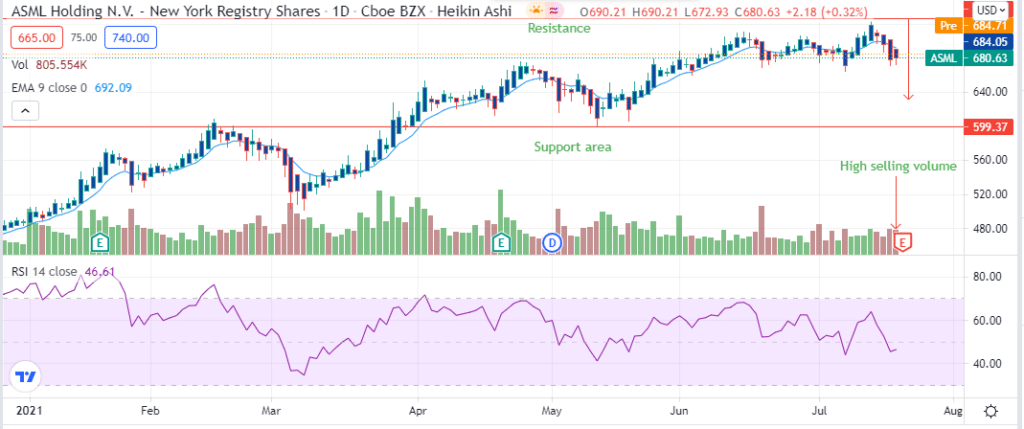 There is a selling volume of the stock with the 14-day RSI around the neutral zone at 46.61. The price is also moving towards the strong support zone of $599.37. However, we expect the price to trade in the range of 680.63-720.00.