IBM up 12% year to date
EPS expected at $2.34
Revenue expected at $17.57 billion
Focus on the cloud business
IBM has been on an impressive run ahead of its Q2 report scheduled for July 19, 2021. The stock is up by more than 10% for the year. While it is down by about 7% from all-time highs, a solid Q2 report could strengthen investor sentiments in the stock.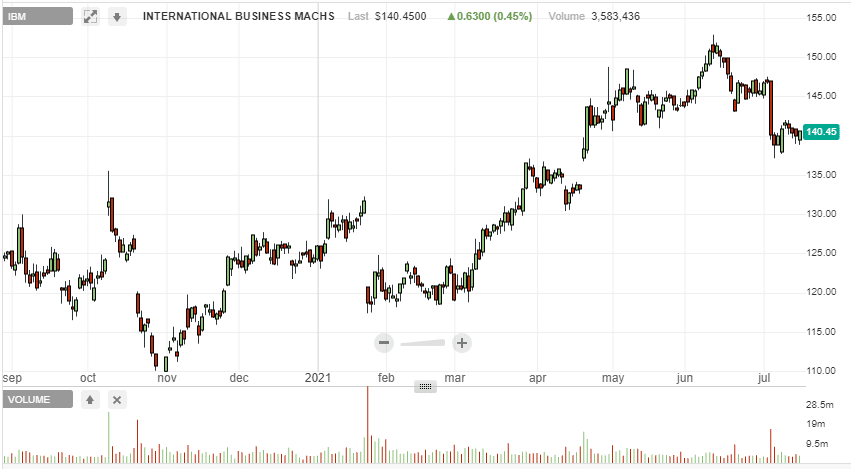 Expectations are high that the results will come in better than expected, having topped analyst's projections in the last four quarters. In the last four reporting periods, revenues have topped assessments three times.
The better than expected results have come at the backdrop of an aggressive investment drive that has strengthened the company's core business. Big blue has invested in research and development and completed seven acquisitions. The acquisitions have gone to enhance the firm's fortress in cloud business and prospects around emerging technologies such as artificial intelligence and machine learning.
The company heads into the session, having completed the procurement of Turbonomic, expected to allow it to equip people with AI tools. The company has also inked a strategic partnership with Verizon for cloud and 5G networks integration.
Q2 expectations
IBM is projected to deliver $17.57 billion in sales for Q2, slightly above $17.38 billion that Wall Street supposes. In Q1, it delivered $17.6 billion in sales, a 1% year-over-year increase topping approximations of $17.34 billion.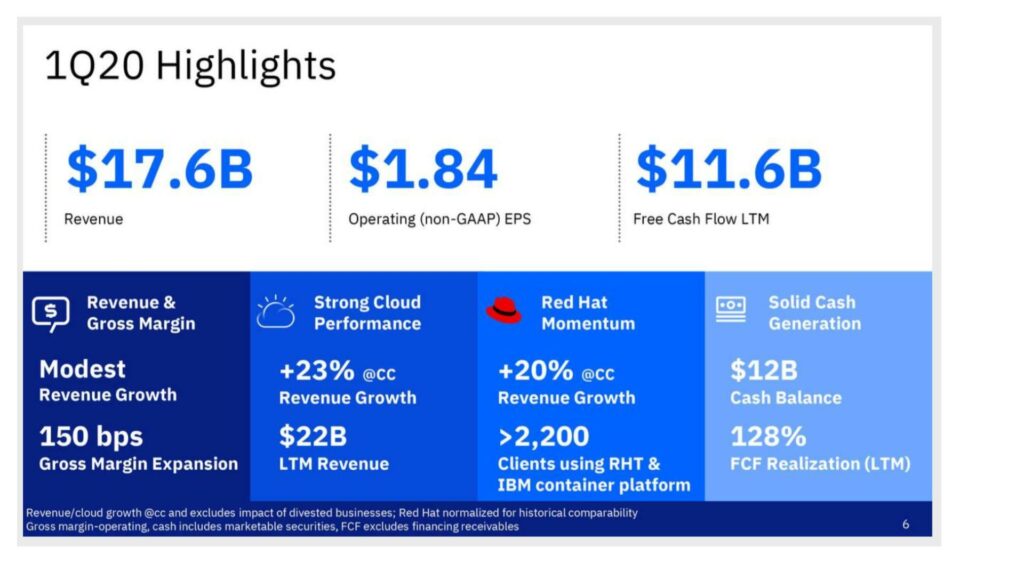 On the other hand, EPS is anticipated at $2.34, slightly above a projection of $2.29 a share. In contrast, the company's net income did drop in 2020 owing to the effects of COVID-19 on the business environment. However, the easing of restrictions and opening of the economy is believed to have fuelled a revival that should see EPS edge higher.
What to look out for
The Cloud & Cognitive Software segment will be in focus when the cloud giant reports. The segment generates a good chunk of sales. In Q1, the segment reported a 4% increase in sales on hybrid platform growth. Increased digitization in the period is believed to have fuelled further growth, which should drive sales higher.
Digital transformation worldwide is fuelling strong demand for IBM's cloud offerings and is expected to fuel revenue growth going forward. Red Hat integration can only contribute to more sales. IBM had over 3,000 hybrid cloud platform customers as of Q1, all but affirming its recurring revenue base.
The Global Businesses Services segment will also be in the spotlight when big blue reports as the segment posted a 2.4% increase in sales in the previous period. The segment is expected to post income increase helped by the improvements in cloud and data platforms. While system sales were up 4.3% in the previous period, the trend is believed to have continued in Q2.
In addition to revenue growth, IBM has also made progress in strengthening its balance sheet by paying down debt. It will be interesting to see if the company maintained a healthy cash balance. Disciplined financial management should allow the company to increase its investment in high-growth segments such as hybrid cloud and advanced technologies such as AI.
Bottom line
IBM has been in consolidation mode in recent days after pulling back from 52-week highs. A better than expected Q2 report could be the catalyst to trigger a bounce back as the stock is in dire need of new catalysts to rerate higher.