Forex signals are handed out by professional traders who recommend buying or selling a currency at a specific price and time. The shared trades are then copied out by other traders on their trading platform manually or automatically. They are handy as one doesn't have to go through the tedious knowledge grabbing process of psychology, risk management, and strategy. Signals have a symbiotic relationship between the provider and receiver, and the first one gets a share of profits or a selected fee while the latter benefits with gains.
Sharing forex trades and copying them is only handy when done in an orderly fashion with minimum or no latency—copying positions late can be rendered useless. Forex signals can be created and sent over via social media apps, email, or directly copied from the provider's platform. Forex signals or trades can also be provided by a trading robot and then forwarded for regular traders to copy and profit.
How To Use Forex Signals
A well-versed forex signal includes the following:
Entry price
Trade direction (Buy or Sell)
A proper stop loss
A single or multiple proper take profit levels
Breakeven pips
Depending on your signal provider, the service from such signals will usually be shared via social media, email, SMS, or the company's website. When you receive an alert, you must immediately copy it on your trading software precisely according to the information sent out alongside the trade. Buy/sell, stop, and limit positions must be set as market and pending order (Order executes on its own when the price hits the desired level. Some providers are entirely automatic, meaning the positions along with everything are transferred to your account. A few keep their services free while others will cost you some money. It would be best to have a little bit of basic forex knowledge to understand the sent trade/signal and implement it on your trading software with ease.
How Do I Choose The Best Forex Signals Provider?
Following features should be looked at while choosing the best forex signal provider:
Track Record: A verified track record which shows the complete history of trades should be available. The results must depict trading of at least a few months to a year to check the credibility thoroughly. Such records should be on the signals provider website and verified and noted places like myfxbook.
Leading Trader: The leading trader who sends out his signals must have good experience in trading beforehand.
Trial: For paid signals, a completely free trial that gives an overview of their services must be provided. This helps out a trader to test out the trades and see if they fit his/her schedule.
Customer Support: Good customer support services must be given out. Live chat services should be there for the premium services at the least.
Time Zone: The times your signal provider works the most should match your free hours.
Additional Services: Extras are always a plus. Getting some education or other trading tools and expert advisors that may give your forex trading a boost are some excellent perks.
Best Free Forex Signals
MQL5
MQL5 trading signals are handled by one of the most notorious forex trading platforms known as MetaTrader. The software company has included the ability to copy signals from traders as they trade their accounts. Traders can filter and search signals based on the following customizable settings:
Broker
Trading software, i.e., MT4 or MT5
Maximum profit
Reliability
Profitable within a month
Intraday
Having review etc
While searching, you have to be careful with the ridiculous gains as shown by some providers. Looking at the equity/drawdown/balance, curve, trading history, reviews, etc., can help you filter out the unnecessary noise.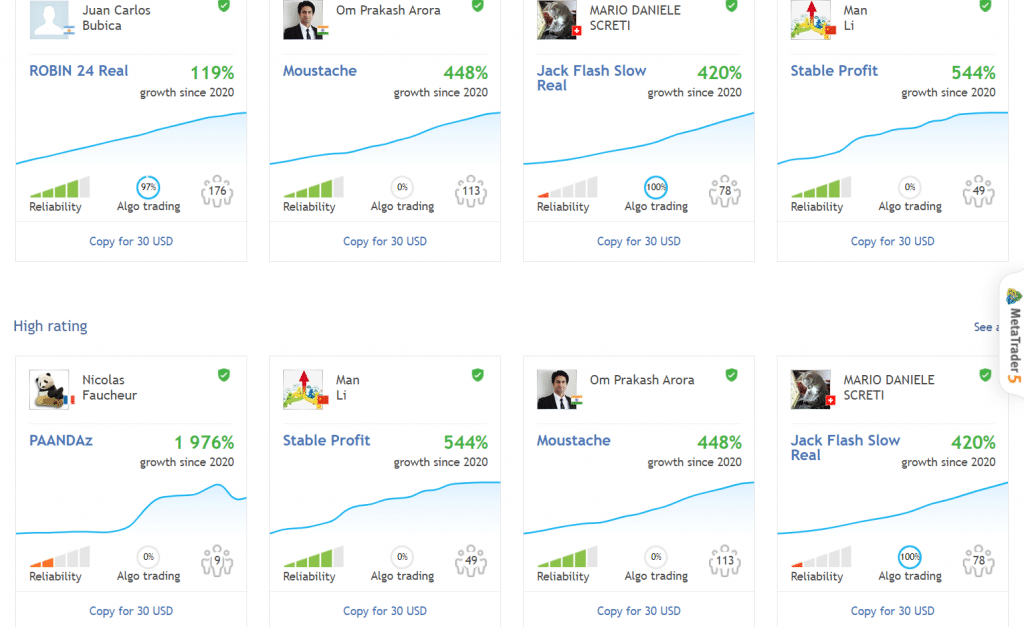 Most of the top brokerage firms in the market support copying signals through the MetaTrader platform. No installation is required, and the whole process is fully automated, and you can also use your expert advisors in combination with the trading signals. Prices start at 30 dollars, and monthly subscriptions can be taken from their website or the MT4/MT5 terminal, after which they have to be renewed. A variety of payment methods include web money, credit/debit cards, e payments, PayPal, Union Pay, and MQL5 and MQL5 coupons. Customer support is delivered via a service desk that gives a quick response.
Pros
A few clicks are required to get new subscriptions where the whole process is straightforward
The ability to filter out signals is amazing
You don't have to copy all the trades manually. Everything is automatic from entering to exiting
The service is reliable as it is provided by the developers of all famous trading platform MetaTrader.
Cons
Providers should only be allowed to give a subscription to their services if they have a good long track record.
---
Forex Signal Factory
One of the intriguing free forex signal service providers includes the forex signal factory that has over 45000 followers. With no hidden costs mentioned on the website interface, they boost themselves by saying that we don't force you to open an account from the broker of our choice as other free trade providers do. A small Telegram, Twitter, and Facebook link will land you at trading pages where they post their executions; follow their accounts to stay updated on the signals. While looking at the trades, we can see that proper stop losses and profits follow strict risk management. The risk-reward ratio is 1:2 on all the positions. Notifications are sent with information on closing the trades, and the number of pips gained or lost is included, which shows transparency.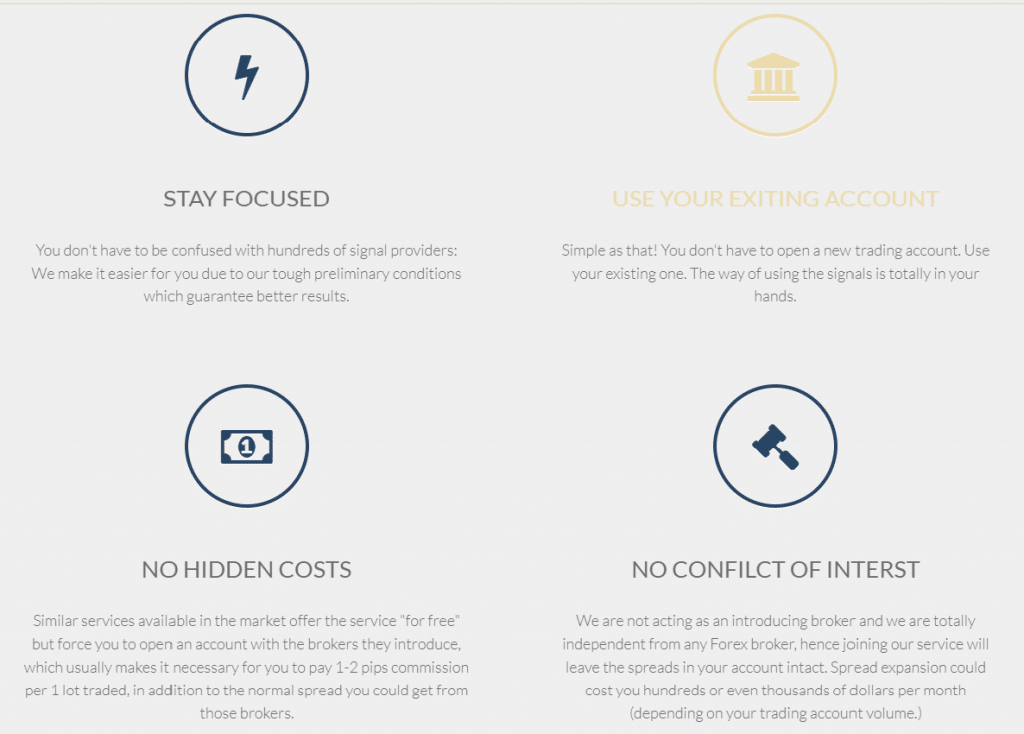 Forex signal factory makes their service even more trustworthy by making the following claims:
Live Accounts: Traders who are providing their signals are trading on their live accounts. Therefore, they are bound to perform at best by giving full focus and concern as any losses will mean losses for themselves.
Risk Aversion: The factory claims to avoid any strategies that are based on risks. They have banned the martingale strategy and do not accept gains shown by using a considerable lot size on a particular execution. This can also be confirmed as they share the necessary value, i.e., stop loss and profit while sharing the positions.
Profitable Traders: Signals are shared by traders who make consistent gains in the market. If the trading account goes below the initial value, then such a trader is stopped from sharing new execution until his balance turns positive.
Pros
No risky strategies such as martingale have been used in their trading plan
The process to follow signals is easy. You simply have to follow their social media accounts to stay updated.
A fixed stop loss rule of 40 pips and take profit with 80 pips makes up for an excellent risk to reward ratio.
Cons
No information is available on who is the main trader or his background.
The only way to contact them is by sending a message through their social media accounts.
---
Daily Forex
Daily Forex comes with the motto of providing free forex signals that are as reputable as premium ones. On the main page of their website, you are initially greeted with a list of best brokers, editor's choice that includes articles on various aspects of trading, daily market analysis, and browses by currency pair option. In addition to providing signals, they have a separate section called browse by category in which you can search for specific instruments, e.g., bitcoin, EUR/USD, etc.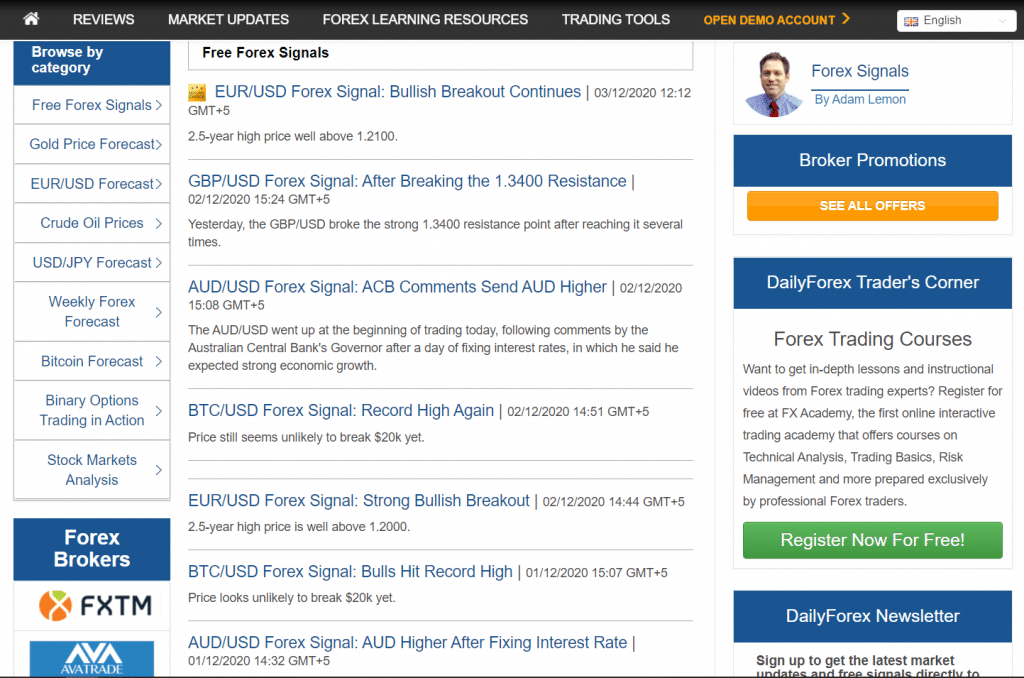 Daily forex is more suitable for people having a little knowledge about the financial markets. According to guidelines, their trading ideas require you to know fundamentals and technicals to judge their trades and enter the market. Risk percentage, stop loss, take profit, partial take profit, everything is included under a single trade idea. A trading app is also available, handing out updates on forex news, analysis, and signals. In addition to trade executions, daily forex also gives out free education and reviews. It can be beneficial if you are a newbie looking to copy signals and learn the idea behind the trade while you execute It with the best broker.
Pros
A trading app is available to keep you updated about trade ideas on the go
Ability to follow specific currencies, which can be useful in case you have a low spread or swaps on it
Binary options and bitcoin trading is available
Cons
The trading ideas are not suitable for a complete beginner. One must have some idea of the market to copy signals hassle-free
---
Forex GDP
A unique forex signals provider offers three packages free, premium, and supreme; Forex GDP considers itself a scam-free signal provider. They invite you to test out their service with zero cost programs. Trades are given out, including fundamental and technical analysis, so that you understand the meaning and reason behind an opened execution. Forex GDP boasts an impressive winning ratio of 80 to 95 percent and a risk/reward of 1:1-1:5; however, they don't provide any proof of that. Stop losses range from 10 to 100 pips, and the take profit starts from 30 pips up to 600. The free program is limited in a lot of ways. Only two to four signals per month are offered with it alongside trade ideas, email support, entry/exit, and a max gain of 15 pips.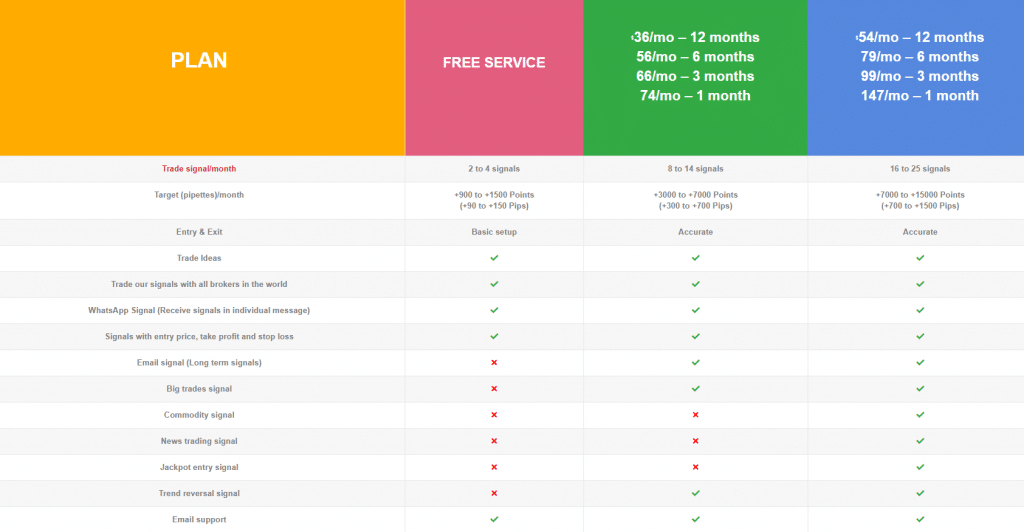 Major trading signals are only offered for subscribers. The user review section shows the quality reviews they have received providing their service. An education corner is also available on the site to provide knowledge in the financial market, and the customer service can be contacted by filling out a form, sending an email, or reaching out to them via skype.
Pros
High winning ratio of 80 to 95 percent
Quality education material that can help you learn as you copy
Beginner-friendly
Cons
They don't give out major trading signals in their free package
Customer service takes a lot of time to reply to your inquiries
---
eToro
eToro offers its services as one of the most reputable forex brokers and free signal providers. The brokerage gives out trades in terms of copy trading. What happens is that you open an account with eToro, deposit some money, and select a top trader with an excellent background to copy signals from. A ton of information can be obtained about a trader by looking at their portfolio, which includes percentage gain, no of copiers, risk, etc. They have a perfect system that allows you to get a deep insight at filtering every trader search input according to your needs. Beware of those who have a high return on their accounts as this points towards using a risky strategy.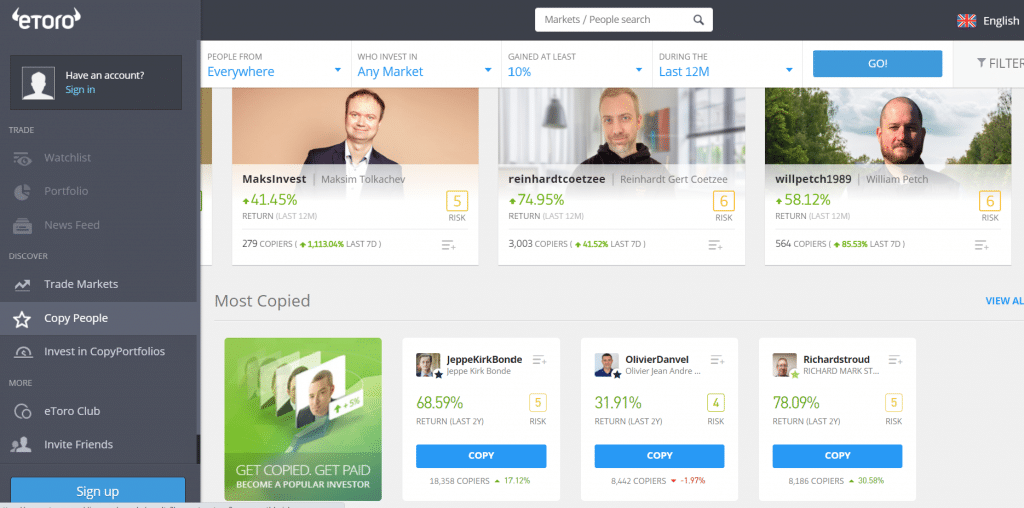 Unlike other signal services, you don't have to input the trades with their entry and exit manually and slippage/delays are not an issue as eToro manages them all on their platform. The position is opened and closed by the trader you choose and is copied automatically to your account, where the size of your execution is determined by the percentage risk your trader takes. The brokerage's transparency makes it one of the most reliable free signal providers in the market.
Pros
The whole process is automatic, and you don't have to manage the executions manually
A wide variety of filters are available from which you can sort traders according to your advantage
eToro itself is one of the most reputable brokerages that is recognized by various regulatory authorities.
Overall the online web platform and mobile app are friendly to use from where you can see all the copied signal easily
Cons
The minimum amount required to invest is 200 dollars, which is pretty high
Traders from a few countries might not be able to use their signal services as they are not supported by company
---
Best Paid Forex Signals
ForexSignals.com
ForexSignals.com does an aggressive marketing strategy to promote their product on and off social media. They boast about having more than 83000 forex traders copying their trades and over a thousand Trustpilot reviews. A youtube channel is also run by the signal provider with more than 230K subscribers. The prices are varied depending on the package you choose; a contract of one year will settle you for 47.25$ a month. A seven-day trial is offered before you buy one of the three trading packages, as shown in the image below.
A team of professional traders with a combined experience of more than 50 years work the market, answers your trading questions, and give useful critique on your ideas. You get access to their forex strategies, educational content, and the ability to watch them trade live, making the signal provider fully transparent. Three different types of trading strategies provided by ForexSignals.com include:
Naked Trading (Price Action)
FX Propulsion (Intraday)
Trend Surfing (Swing trading)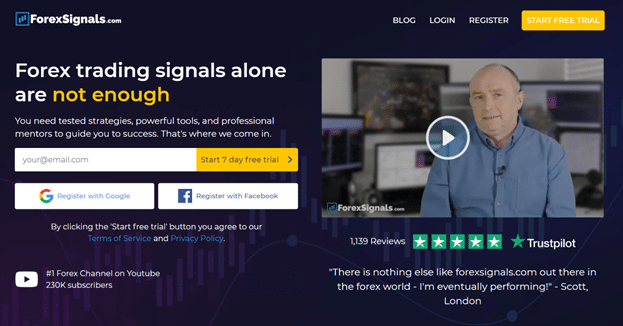 Custom tools and expert advisors like risk manager, naked trading, and momentum meter help you with your trading. An app is available for both android and iPhone to keep one updated with trade, chat, a news feed, and much more.
Pros
1139 trust pilot reviews along with 230k youtube subscribers show good transparency
Ability to chat 24/7 with their pro mentors
Three different strategies are there. You can follow the one that fits your needs.
A variety of useful trading tools are offered that help you in executions
Cons
One of the most expensive signals out there are given by ForexSignals.com
---
FX Leaders
FX Leaders comes with two monthly plans and an option to get the premium service for free by opening an account through their registered broker, i.e., Avatrade. You can choose to pay 39 USD a month or get a yearly plan that costs 9.8 USD, while a minimum of 250 dollars in a deposit is required with their partnered brokerage to get their service for free. Executions on the free account are limited in terms of information like entry price, entry/exit points, etc. The trades are given via email alerts and mobile notifications by their app and are presented for 18+ signals, including cryptocurrencies, indices, and commodities. Executions are analyzed on multiple time frames with the help of six popular indicators Fibonacci, EMA, Stochastic, RSI, Pivots, and Support and Resistance levels.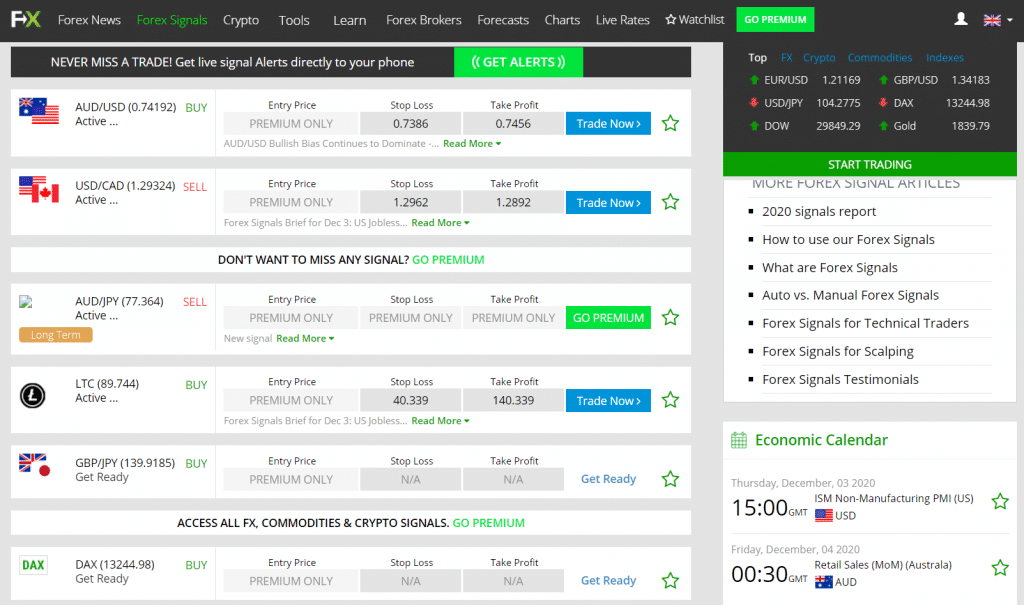 Long and short-term trades are available, and you can choose to follow the one that is more suitable for your style. The analysts publish the idea behind the positions, so you get a chance to learn. A comprehensive profit and loss report can be accessed, which you can filter out according to the time, types of positions, etc. Client testimonials are also given within the website to get a better grasp of what others are saying.
Pros
The trading history and performance report are available that can be filtered.
Swing and day trades are included with the paid package. Follow the one that suits your style
A comprehensive website that includes information on news, signals, tools, learning material, charts, and rates
Cons
The trial offered by giving free signals is basically useless as the entry price is not provided
---
FXStreet
One of the earliest mentions making our list FXStreet was founded in 2000, which offers forex brokerage services and provides signals. Like other forex signal vendors, they have various packages that you can get for the buck. Monthly bundles will cost you 35 Euros while extending your subscriptions to further months lands you a discount. The average number of signals you receive per trade will be around 5, depending on market conditions, and executions come with a little background data that gives insight into the position. Most positions are executed between 8 and 16 GMT. A win rate of 45 to 55% is compensated by the profit factor of 1.70, allowing the seller to stay in the positive territory. Track records are available at myfxbook and can be verified for both demo and real accounts.

Useful money management techniques are used that puts the same amount of risk on each trade with a leverage of 30:1; however, some executions may have no real stop loss or take profit. You can receive the signals via their insights messaging tools, application, or custom device notifications. FX experts have provided the exclusive communication channel.
Pros
FXStreet offers brokerage services since 2000, and it gives credibility to their other services like signals
A good amount of information and analysis is available on the site to help you learn more
Desktop and mobile app availability that keeps you updated with the incoming trades
Cons
The track record on myfxbook shows the account is negative, which is a huge turnoff
They don't have a fixed saying if their signals are short or long term
---
1000pipbuilder
Led by their lead trader Bob James who has over ten years of trading experience, 1000pipbuilders aims to give you quality signals having good expert analysis and risk management. 2-7 trades are provided each day with the goal to make 350 pips a month. Fifteen currency pairs are analyzed, and executions are done only on those. Their trading results are verified by myfxbook; however, their record has not been updated since January 2020, and only a few months from the year 2019 are shown. Signals are sent via email, Telegram, and SMS (Will cost you some money). It is advised to use Telegram as it is the quickest option available. Following trading strategies are employed:
Trend capture (Technical and fundamental analysis)
Range trap (Support and resistance along with chart and candle patterns)
Momentum rider (Utilizes divergent activity between short term price movement and long-term trend)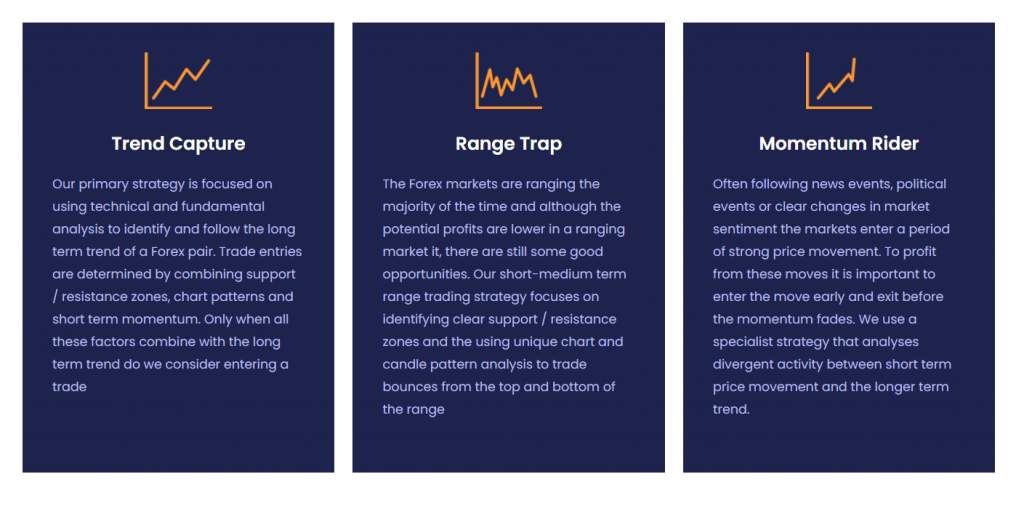 They also offer full expert support in case if one needs any help. The standard monthly package will cost you an eye-watering 97 dollars but similar to other signal providers; they will give a discount if you get a long-term subscription. The program is friendly for beginners and guides one as the signals are sent. Five-star ratings are also featured on popular financial sites like Investing.com, Profit F, Forexwinners.ru, etc.
Pros
1000pipbuilder is featured on popular financial websites like investing, Forexwinners.ru, etc
Unlike others, they offer a simple 300 pips gain each month, which is reasonable to say at least
The service is easy to follow as it doesn't require you to install anything or use any expert advisors
Cons
The trading record, as shown on the website, depicts that it's verified by myfxbook, which is not the case
They don't have a fixed saying if their signals are short or long term
---
PipsAlert
PipsAlert provides a fair amount of information on their trading signals before anyone wishes to copy them. One of the most impressive features is the ability to try out their service for one month with just a dollar to spare. After that, you can pay a fixed amount of fee, i.e., 59.95 USD. 30-day pips protection service gives you peace of mind as your subscription will be extended for one more month if the number of pips gained is less than 500. Executions are taken from a set of elite traders that have gone through a rigorous 9-month evolution. The trades come out mostly during London, and New York session and PipsAlert claim to provide roughly 4500 pips in 20 trading days. All traders are welcomed with their service no matter the equity size of the accounts. Currencies and commodities are traded and a comprehensive trading course that has over 40+ videos on forex knowledge is available on the website.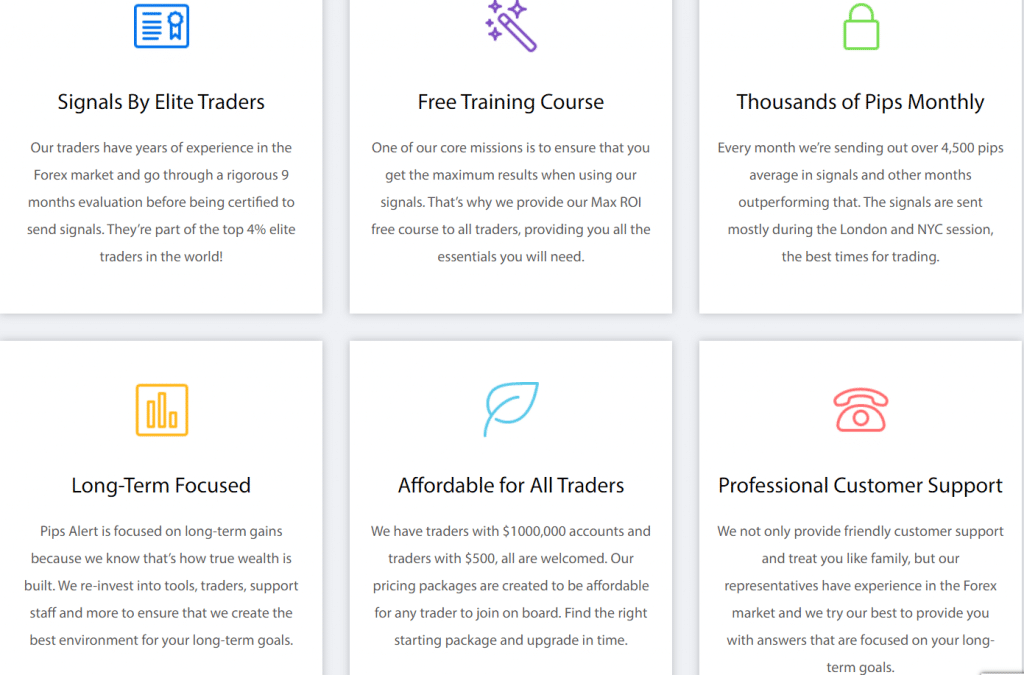 They have their own platform designed to suit clients' needs by providing signals, customer support, etc. Android app is also available on the play store to keep you updated on the go.
Pros
A 30-day trial is offered for just 1 dollar so that you can test out their service
Their selected traders have to go through a 9 month evaluation period before they send out signals
An easy to use online platform is there to keep you updated on trades
The free course is handed out with a subscription aimed to get you started with the world of forex
Cons
Different traders offer signals. For new traders, this can be too confusing as they'll see better profits and end up continually changing their source provider
---
Is It Worth Using Forex Signals?
Pros
You can make a steady profit without any hard work. Just sit back, copy all the trades and make a steady income each month
Platforms like eToro give even more benefit to a trader as the copying process is done automatically
Access to top traders is handy for beginners and amateurs to develop their trading
The useful analysis provided along with signals so one can better understand the trade idea
For novices, they allow them to get into the market quickly as they raise their learning curve
Different strategies are available with signal providers that consist of various trading styles, i.e., scalping, day trading, and swing trading. The range of options is beneficial for traders who can choose the one that fits their needs
Cons
The signal sellers make too many fake claims about their services, win rate, pips, etc. Forex signal groups on Telegram are one of the most notorious for scamming traders
Nobody gives quality for free, and the same is the case with forex signals. You get what you pay for, and most of the genuine trade copying services are provided by subscriptions that are too costly.
Signals may not cover volatile movements in the market as it would take time to send out a notification to close or open a position
How To Avoid Scams Among Forex Signals Providers
Forex has been a hub of scam artists who acts like a shark to a floating newbie trader. It can be thought of as a vast jungle where a novice or even an amateur is left alone with all the wild animals. Many forex signals services claim to be genuine out there; however, only a few can perform nicely and give consistent gains and pips. Taking a look at the track record can give you an idea. Make sure that a noted authority like myfxbook verifies the trading results of any signals seller.
Crystal clear customer support should be offered to wash out any doubts you may have at any moment. See if they allow contacting the central trader and ask questions directly. Offering a full trial that includes each feature of the premium services should be looked at to avoid getting scammed by paying a fee beforehand. Signal providers must be careful with risk management; if they tell you to put more leverage and risk on your trades, then it rings the alarm.
Summary
Finding the right signal provider may be a hassle for some, especially newbies in the market. Such people usually blow up their accounts because they take forex for some get rich quick scheme. They ignore the standard learning curve that must be followed and end up in the losing 90 percent of traders. Forex signals can help these traders stay in the positive territory as they slowly learn about the financial markets. Even for amateurs, this can be a plus as following verified signal providers will help them get more consistency in their trading. It is essential to follow the right company not to blow up your money.