NinjaTrader is one of the most eminent, award-winning, and industry-recognized trading platforms for trading forex. Among NinjaTrader forex brokers and its users, the software is revered for brilliant charting functionalities, tailor-made technical indicators, and third-party developer add-ons, among other impressive features.
These attributes easily make it stand toe-to-toe with many other familiar trading platforms.
Despite there being only a handful of forex brokers supporting NinjaTrader, through our extensive research, the selection process will be much easier.
We have picked the four of the forex brokers with NinjaTrader, along with this software's features and how to select the best broker.
---
Top 4 Forex Brokers Supporting NinjaTrader Platform
---
Forex.com

Minimum Deposit: $100
Base Currencies: 5
Regulation:
CFTC, ASIC, CySEC, FCA, FSB, ISA, MAS
Trading Instruments:
Forex, Crypto, Stocks, Commodities, Indices, Futures, Options
Deposit Methods:
Wire Transfer, Credit Cards, Skrill, Neteller, WebMoney
Trading Platforms:
MT4, MT5, NinjaTrader, WebTrader
Forex.com is one of the oldest forex brokers supporting NinjaTrader. The broker is a subsidiary of StoneX Group Inc., a time-honored, American NASDAQ-listed financial services conglomerate.
Being under the ownership of such a large brand means they are highly regulated and capitalized, allowing them to offer everything a trader would desire.
As its namesake suggests, Forex.com prioritizes its branding around the offering of forex products, boasting well over 90 pairs. Of course, they offer other instruments like indices, stocks, commodities, and crypto.
As expected, their American association through StoneX Group Inc. means they accept clients from this region — a rare feature amongst a vast majority of brokers.
Pros
They accept US clients and claim to be the #1 forex broker in the country.
They hold multiple regulatory licenses.
The broker has been operating since 2001.
Forex.com is well-capitalized.
The company offers several accounts.
Cons
The minimum deposit is $1000, which might be high for many.
Provides maximum leverage of 1:50 due to US regulations.
Read more about Forex.com in this review
---
FXCM

Minimum Deposit: $300
Base Currencies: 3
Regulation:
FCA, FSCA, ASIC
Trading Instruments:
Forex, Crypto, Indices, Stocks, Commodities
Deposit Methods:
Wire Transfer, Credit Cards, Skrill, Union Pay, Neteller
Trading Platforms:
MT4, Trading Station, NinjaTrader, ZuluTrade
Forex Capital Markets or FXCM is yet another long-standing CFD retail broker, established in 1999. It is a subsidiary of the NYSE-listed financial services company Jefferies Financial Group, formerly known as Leucadia.
As an old player in the financial services industry and one of the oldest NinjaTrader forex brokers, it's no surprise they've expanded their global reach with offices in several countries.
Besides their headquarters in the United Kingdom, they have also set up offices in South Africa, Israel, Canada, Australia, Cyprus, and Hong Kong with regulatory licenses from each respective region.
With only a reasonable minimum deposit of $50, investors can trade all the most popular financial instruments besides forex and withdraw profits through a multitude of payment options.
Pros
Adherence with multiple regulators
Wide variety of instruments to trade
Extensive selection of funding and withdrawing methods
Minimum deposit of only $50
Cons
A limited selection of accounts
Charges inactivity fee for dormant accounts
---
Fort Financial Services

Minimum Deposit: $5
Base Currencies: 2
Trading Instruments:
Forex, Crypto, Indices, CFDs, Commodities
Deposit Methods:
Visa/Mastercard, Skrill, Neteller, WebMoney, FasaPay, PerfectMoney
Trading Platforms:
MetaTrader 4, MetaTrader 5, NinjaTrader, CQG
Fort Financial Services confidently describes itself as the 'citadel of trading' because of the broker's stronghold on financial markets since 2010. Fort provides services to most nations worldwide but is particularly prevalent in Europe, Russia, the Middle East, Asia, and the Commonwealth of Independent States regions.
Fort proudly caters to both beginning and professional traders, with minimum deposits of $5 on nearly all their accounts. They offer a unique feature not found with many brokers to the newbies, where they compensate 10% of any losses.
They have a wide range of accounts such as cent, standard, fixed spread, no swaps, and copy trading investors can speculate with in forex, equities, commodities, crypto, and indices.
Pros
Unlimited leverage
Low minimum deposit of $50 on most accounts
Different account types provided
10% compensation for any losses on their Newbie account
Commission-free deposits and withdrawals
Cons
Regulation by an offshore regulator
---
Interactive Brokers

Minimum Deposit: $0
Base Currencies: 19
Regulation:
CFTC, FCA, ASIC, IIROC, MAS, SFC, CBI
Trading Instruments:
Forex, Stocks, Options, Futures, Metals, Bonds, ETFs, Mutual & Hedge Funds
Deposit Methods:
Wire Transfer, Checks, ACH, BPAY
Trading Platforms:
IBKR Trader Workstation, IBKR Web and Mobile, NinjaTrader Connectivity
Interactive Brokers is a genuine, premier, NASDAQ-listed multinational financial securities enterprise with roots stretching as far back as 1977, meaning the brand has existed for 44 years. The broker claims to process a staggering 3.3 billion trades daily among itself and its affiliates.
Trust and security are one of the company's critical missions, as evidenced by boasting 24 offices in 14 countries aside from its headquarters in Connecticut, United States. Interactive serves retail and institutional traders in well over 135 countries through the direct market access offerings of forex, stocks, metals, ETFs, options, futures, bonds, and funds.
Pros
Supervision by more than five recognized regulators
Market presence since 1977
Being listed on the NASDAQ
A few account options
$0 minimum deposit on IBKR Pro and IBKR Lite accounts.
Cons
Only 23 currency pairs on offer
High monthly inactivity fee
---
What is NinjaTrader?

NinjaTrader is not just a trading software product but also an NFA-registered brokerage firm for forex and futures. The Chicago-based software development brand behind the platform, NinjaTrader Group, began in 2003. Since then, NinjaTrader currently has over 100,000 users in more than 135 countries.
The software is esteemed for state-of-the-art charting, customizable indicators, and thousands of third-party developer add-ons, among other impressive features.
NinjaTrader is also known for its collaboration between a few highly-respected forex brokers like Forex.com, Interactive Brokers, and FXCM, all of which are forex brokers with NinjaTrader and covered in this article. The software comes in two versions, free and paid.
The costless option comes with pretty much everything a funded trader needs to get started. However, the paid version comes with NinjaTrader's exclusive proprietary Trader+ and Order Flow+ products.
Price-wise, clients can purchase the premium option in several monthly options or a one-time lifetime license fee of $1099.
NinjaTrader platform features
So, what are some of the reasons traders should consider NinjaTrader? Firstly, let's consider the technology. It's useful to note NinjaTrader is unique among other brands as it's both a software product and brokerage.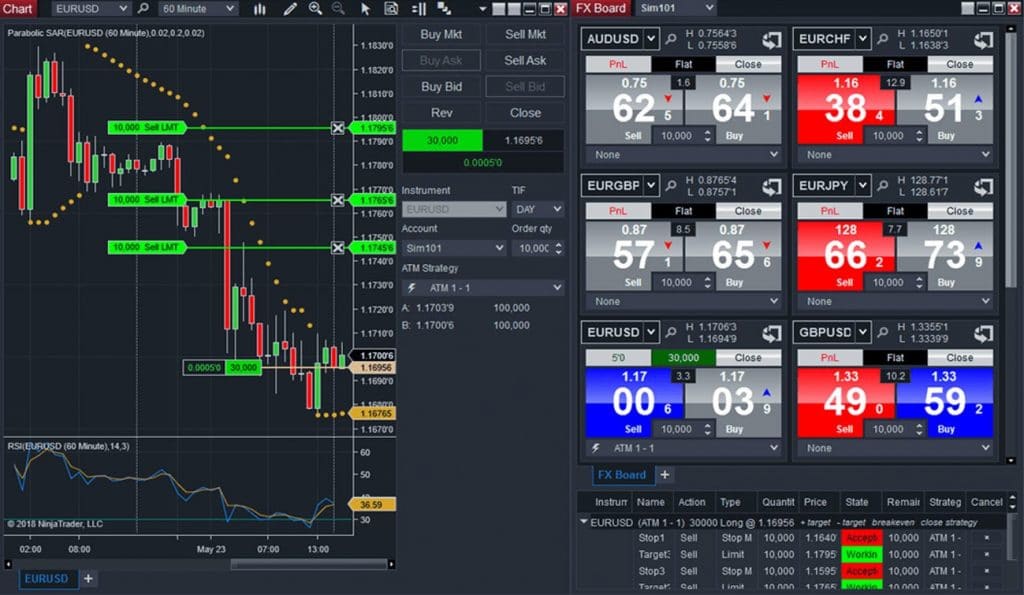 Therefore, their integrated market price data feed, provided mainly by CQG Continuum and Rithmic, are some of the most high-tech in this particular field. In terms of the charting experience, everything we've come to expect from a trading platform is here.
For starters, NinjaTrader is clean and highly intuitive. Visually, users can spoil themselves with color customization for their crosshair, fonts, background, indicators, etc. They can also adjust the layouts neatly to allow them to swiftly insert a plethora of indicators, artful drawing tools, unique charts, advanced trade management techniques, and more.
NinjaTrader is also brilliant for its Ecosystem social community, a platform where users can customize their software and explore special indicators, add-ons, and automated strategies.
For those wondering whether NinjaTrader's premium version is worthwhile, this would depend, of course, on their budget and how much they prioritize the extras.
However, the features on their paid version are far more advanced and not found on most trading platforms. For instance, with Order Flow+, this allows traders to intricately observe volume bars, market depth, and order flow from their particular broker.
This information could prove to be critical for a host of strategies. Overall, NinjaTrader is quite an advanced software package. Fortunately, the brand hosts free daily webinars to ensure users can quickly master
Pros and cons of using NinjaTrader
Below are the main pros and cons of using NinjaTrader.
Pros
Highly advanced trading software
Compatibility with recognized forex brokers
Enthusiastic social community with countless apps and add-ons
Offers guides, webinars, and other media to help newbies navigate the platform
Cons
The premium version is expensive
It is likely to be daunting for beginners
The broker does not have a native mobile app
How to choose NinjaTrader forex broker
Now that we've provided several options, here are other considerations if one decided to narrow their choice.
Regulation. Like any broker, this is always the first point of scrutiny because it brings an impeccable reputation, security, and adherence to the highest client standards. Trusted leading regulators come from Cyprus, Australia, Europe, and North America. Clients will probably need to note specific terms and conditions associated with these bodies and any possible exclusions.
Trading costs. Brokers are financial institutions and come with various fees. Depending on the observed instruments, traders will want to compare the spreads and swaps to ensure there isn't much of a difference across the board. For depositing and withdrawals, again, a comparison is necessary. Preferably, it's best to go for a broker charging no commissions in both instances. Lastly, one should note if the broker has any inactivity fees or not.
Trading conditions. The things to consider in this aspect include a range of different trading accounts, reasonable minimum deposits, responsive order execution, and fast deposits and withdrawals.
Range of instruments. In terms of markets, the more, the merrier. Traders should not only focus on the variety of forex pairs but may also note what other financial securities the broker if they considered adding another instrument in the future.
Customer support. The first must-have with customer support is a highly responsive live chat function, which is the best way for clients to have most of their queries solved. Other necessary customer support functions include email, telephone, and instant messaging communication.
Our methodology
We have carried out extensive, unbiased research for a few months into the chosen brokers offering the NinjaTrader platform, scrutinizing trade execution, available instruments, costs, safety, support quality, and overall customer experience.
After compiling the list of the best forex brokers with NinjaTrader, it's also beneficial for readers to know more about the software to make a more informed decision. Lastly, we have then summarised all the substantial collected data into concise yet informative sections. Navigating the NinjaTrader platform may take the average trader some time because of its ultra-modern features. Fortunately, it is worthwhile for any serious trader. With the platform's partnerships only with a carefully selected number of recognized forex brokers supporting NinjaTrader, it's the perfect combination.