Overview
Governments worldwide are rolling out the COVID-19 vaccines to millions of their citizens, but there is little hope that the coronavirus will disappear completely. Britain, for example, is ahead of many developed countries on vaccination, but Boris Johnson's government thinks it is time to learn how to live with the disease. This is the new normal that businesses such as Etsy Inc. (NASDAQ: ETSY) will confront going forward.
Etsy will release 4Q FY20 and full-year 2020 financial results later this February, and the market is anxious to see if the company is recovering from the pandemic's downturn. Despite the pandemic, the market anticipates a strong performance, particularly in terms of EPS, because Etsy was quick to adapt to the new normal. For example, the e-commerce platform earned substantial revenue from the sale of handmade facemasks.
The surge in household e-commerce penetration to boost Etsy's revenues
Lockdowns and movement restrictions were the first instinct of governments across the globe when the pandemic struck. By April 2020, almost all countries had activated one strict measure or another to contain the spread of the virus.
But the restrictions on movement had the most significant impact on the economy due to a sudden stop of economic activity. People could not go shopping in physical locations, and interactions were minimal, and this meant opportunity for e-commerce platforms.
According to our analysis, the pandemic might have contributed to the largest amount of retail purchases in the history of e-commerce. In the US, e-commerce retail sales in 4Q 2020 clocked $245.28 billion, compared to $185.70 billion for the same period in 2019, according to the Department of Commerce's figures. In a sense, one in every five dollars spent on retail purchases in the US in the quarter came from e-commerce retail orders.
While the pandemic increased demand for e-commerce services, Etsy's household penetration across the company's international geographies is just 8%, which implies a longer runway to onboard users. Because of the pandemic, Etsy faces the possibility of adding buyers in the order of 10 million and above in the foreseeable future.
About Etsy Inc.
Etsy, Inc. is a Brooklyn, New York-based company that operates and manages e-commerce platforms, including Reverb.com and Etsy.com. Etsy.com is an online marketplace where sellers display handmade and vintage products for sale – they range from shoes, bags, gifts, and millions of other items. Etsy's users are spread globally, but the US, the UK, Australia, Canada, Germany, and France are the company's primary markets.
Etsy also offers payment processing services to merchants on Etsy.com through Etsy Payments and advertising services through Etsy Ads. Other services under Esty-related brands include Etsy Shipping Labels, Etsy Seller Handbook, Targeted Offers, and Etsy Teams. Robert Kalin, Haim Schoppik, Christopher Maguire, and Jared Tarbell founded Etsy, Inc. in 2005.
Etsy's most unique selling point is its business model, which has enabled it to avoid being swallowed up by Amazon and eBay. The e-commerce platform specializes in hand and craft items that you might not easily find anywhere else.
Etsy anticipates more top-line growth
The past year was great for Etsy in terms of top-line growth, where the company reported a 42% increase in active sellers to 3.7 million during Q3 FY20. If the change in active sellers excites you, the 55% jump in active buyers to 70 million in the same quarter will blow your mind.
Because of the userbase's impressive growth, Etsy reported $2.63 billion in gross merchandise sales (GMS) in the quarter, which is an increase of 119% compared to the same quarter in 2019. The quarter's revenues came in at $451 million, which is a 128% rise relative to Q3 FY2019.
Face masks were the hottest item in the online marketplace. Interestingly, Etsy managed to ship out millions of face masks when Trump's administration was not overly keen on their usage. We predict that face masks will continue to buoy Etsy's revenue growth, especially after comments by Dr. Antony Fauci that he expects Americans to need face masks well into 2022.
ETSY stock's recent surge is more than just a COVID-19 anomaly
The ETSY stock grew 323.22% in the past year, and the last three months have seen a 62.27% climb. This jump might appear as a pandemic anomaly to a casual observer – a situation where stocks of a few companies benefited from the effects of the coronavirus – but this is not the case. The ETSY stock experienced a 970% growth spurt over the last three years, which is higher but no less impressive than the stock's growth over the last five years.
Yet, there is still space for more buyers to pile into the stock after all this impressive run. Etsy's RSI is 56.71 (as you can see in the figure below), a value that shows the stock is comfortably far away from being overbought.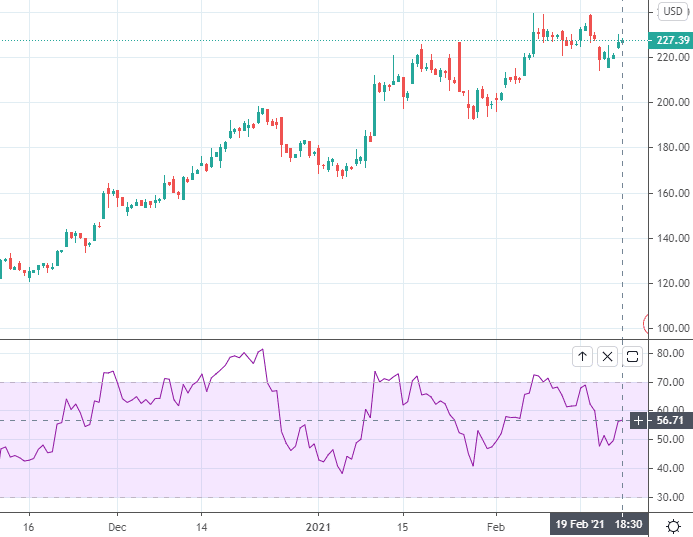 Throw in the MACD, and an interesting pattern of ETSY stock price action emerges. The figure below shows three regions (marked in red rectangles) where price action shows a pattern. A short period of buying is followed by investors taking profit, but the price often does not drop lower than before.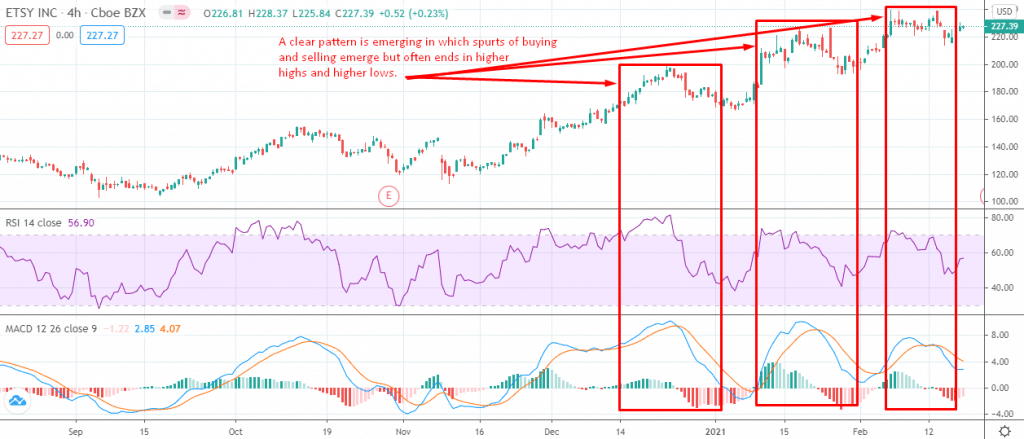 While the RSI indicates the stock's strength is moderate, the MACD shows the selling pressure is subsiding. Note that the selling pressure is waning just when financial results for Q4 FY20 are almost due. Therefore, bears may be scurrying for the door in anticipation of massive buying pressure in the coming weeks.
Conclusion
The post-coronavirus normal will be characterized by a complete shift in consumer behavior, especially in the way they shop. Signs of a permanent shift to online markets are apparent, and this means more buyers and sellers for businesses such as Etsy, Inc. Already, Etsy has posted encouraging figures in 2020. We expect Q4 FY20 financial results to continue Etsy's superb performance, which should translate into more demand for the stock. As such, we recommend ETSY as a BUY.