The Zoom Video stock price jumped by more than 2% in the after-hours trading after the company published strong quarterly results. The stock ended the day at $327, which was 1.15% below last week's close. It then rose to $334 in extended hours, valuing the company at over $96 billion.
Zoom has struggled
Zoom Video was one of the top beneficiaries of the pandemic. Its share price surged by more than 870% between December 2019 and October last year. This happened as the company gained millions of global users as more people worked from home. It became the default video communication service used by companies, schools, churches, and other institutions.
However, this year, the stock has lagged. It has already dropped by 45% from the all-time high as investors worried about growth. Investors have generally been rotating from some of the companies that did well during the pandemic to those that lagged. Other shares that have underperformed are Teladoc, Shopify, and Okta.
Zoom earnings
Zoom had a strong quarter as demand for its video communication products rose. The company's revenue rose by 191% year-on-year to $956 million. Its income from operations rose to $226 million in the first quarter, up from $23.4 million in the same quarter in 2020. Further, its net income rose to more than $227 million while its balance sheet did well, with cash exceeding $4.7 billion.
Zoom continued to add customers at an accelerated pace. It had almost 497,000 customers that had more than ten employees. This was an 87% increase from the same quarter in 2020. Customers bringing in more than $100k per year rose to 2,000.
Most importantly, the company expects that this trend will continue. It sees its revenue rising to $990 million in the second quarter and surpassing $3.97 billion in the full year.
Is Zoom stock a buy?
Zoom is a great company with relatively higher margins and good brand recognition. The company has a strong market share even as it competes with strong juggernauts like Microsoft and Alphabet. It is now being used by millions of people every month.
However, there are concerns that the company will not be able to maintain this growth. For one, many companies are set to bring their employees back to the office. This will reduce the need for video communication services. Similarly, many schools that embraced the platform in 2020 will likely have no use once they reopen.
Still, many analysts are bullish on the Zoom stock. For example, the stock is a big component of Cathie Wood's Ark Innovation Fund, and she remains bullish. Analysts at Royal Bank of Canada have a target of $480, while those at Mizuho and Wolfe Research have a target of $400 and $390, respectively. These ratings will likely change as analysts reflect on the earnings.
Zoom stock price analysis
The daily chart shows that the Zoom stock price is trading at the 50% Fibonacci retracement level. It has also formed a descending channel that is shown in red.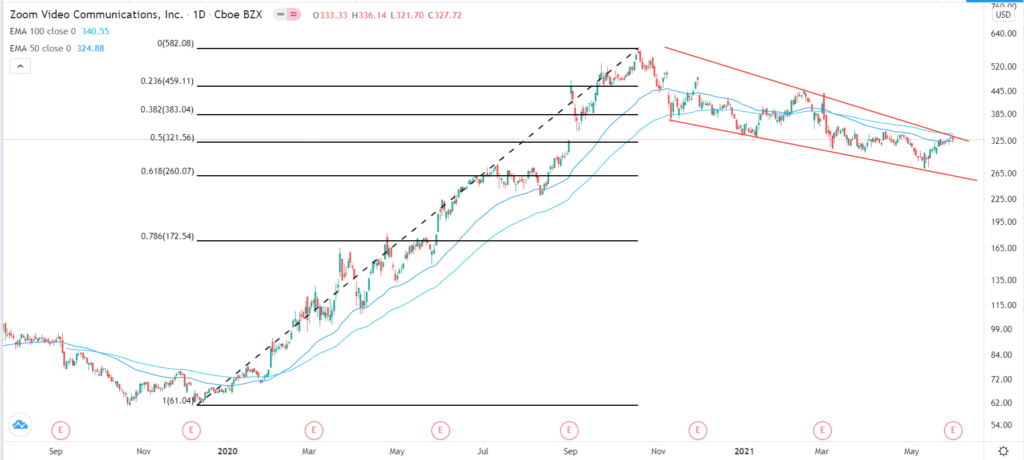 The price is now testing the upper side of the channel. Also, it has moved below the 50-day and 100-day exponential moving averages (EMA). Therefore, the stock will likely resume the downward trend as bears target the 61.8% retracement at $260, which is 20% below the current level.