U.K Construction Total Activity Index hit 61.7 in March, up from 53.3 in February, according to IHS Markit press release. The index signaled the strongest rate of construction output growth since September 2014.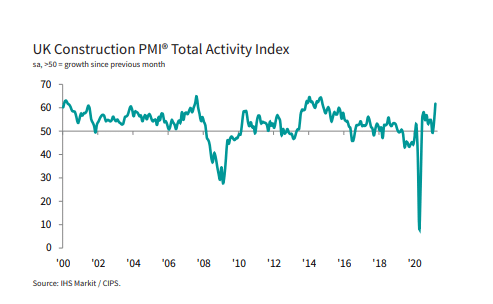 Housebuilding was the best-performing category, with a reading of 64.0, with growth the fastest since July 2020
Commercial construction and civil engineering registered a reading of 62.7 and 58.0 respectively, on solid increases in activity.
Improving client demand and contract awards on projects that were on hold during the pandemic contributed to the steep upturn in new orders.
The job creation rate was the strongest for over two years, fueled by a solid rise in new projects.
Sharp rises in purchasing volumes was witnessed, with input buying the steepest since November 2020.
Supply constraints and logistic issues were reported, especially for imported items.
Imbalanced demand and supply for construction inputs led to the steepest increase in purchasing prices since August 2008.
Growth projections were the most upbeat since June 2015, reflecting confidence in the U.K economic outlook.
U.K stocks and the pound are currently gaining. FTSE 100 is up 0.83%, GBPUSD is up 0.08%