AT&T could announce a deal to combine its media entities with Discovery Inc. this week, according to Bloomberg. The tax-friendly transaction is a surprise U-turn, less than three years since AT&T invested $85 billion to acquire the assets.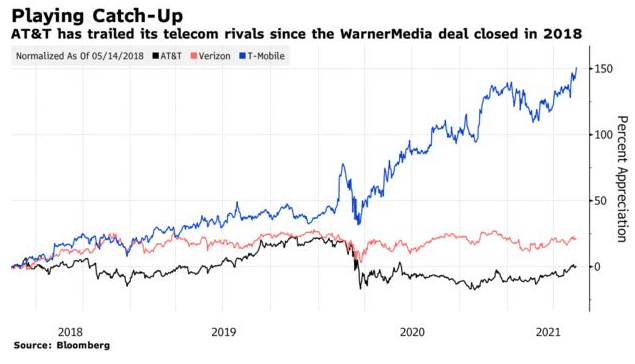 The transaction with Discovery is expected to be structured in a tax-free Reverse Morris Trust.
AT&T seeks to create a competitive entity that would rival Netflix and Walt Disney through the merger.
AT&T had spent years acquiring telecommunications and media assets, with notable buys including Time Warner Inc. in 2018.
The deal with Discovery underscores the challenges that telecom companies such as AT&T face in generating returns through media operations.
AT&T has been disposing of its low-return assets and reducing staff, and channeling resources to expand the 5G wireless network and fiber-optic.
The transaction would value AT&T at above $50 billion, including debt, although talks could falter.
AT&T and Discovery stocks are currently gaining. T: NYSE is up 3.13% on premarket, DISCA: NASDAQ is up 1.19% on premarket.