Introduction
New-age crypto exchanges like Binance exchange facilitate buying, trading, and storing cryptocurrencies. But that's not all they do. They offer a wide range of services, such as spot trading, futures and margin trading, crypto loans, savings services, and staking. With so much going on, it is easy for us to miss out on some of the more interesting/useful but less talked about Binance tools.
Game for some blockchain gaming? How about battling fellow traders? Today, I would like to make you privy to a few less obvious tools on Binance that I think are captivating.
Battle Pets
Launched in September 2020, Binance Smart Chain (BSC) offers everything from token swaps, cross-chain DeFi mechanisms to blockchain gaming. Gaming DApps like Battle Pets bring the fun element to blockchain while earning you crypto.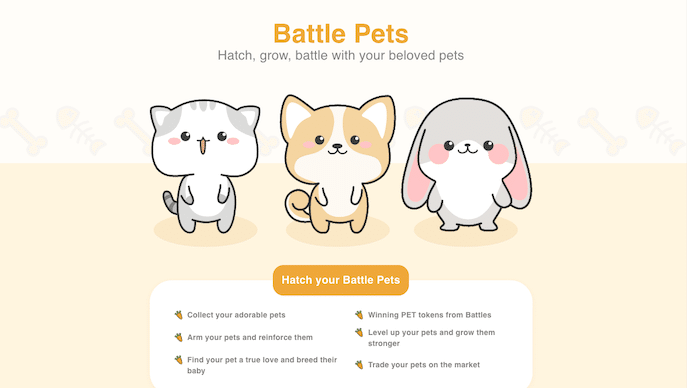 Battle Pets is the first GameFi (a game with DeFi concepts) on the Binance Smart Chain. It is, in fact, a series of games to be introduced in a phased manner. This game is expected to be a serious contender to CryptoKitties once it gains popularity.
You buy pet eggs (bunnies, kittens, or puppies), incubate, hatch, and grow them. The pets you own are NFTs (Non-Fungible Tokens). You train and release them into the battlefield, armed with superior weapons. You gain rewards such as pet eggs and other items when your pets defeat their opponents.
You can buy your pets with the supported currencies and use them in two battles for profit: Tournament and Sieges.
Tournament
Winning pets occupy the top 50 ranks. The stronger the pet, the higher the rank. $FRUIT farming is their reward, but the speed at which they can farm is based on the rank. No.1 ranked pet farms the fastest. All ranks can be challenged and replaced by the winners.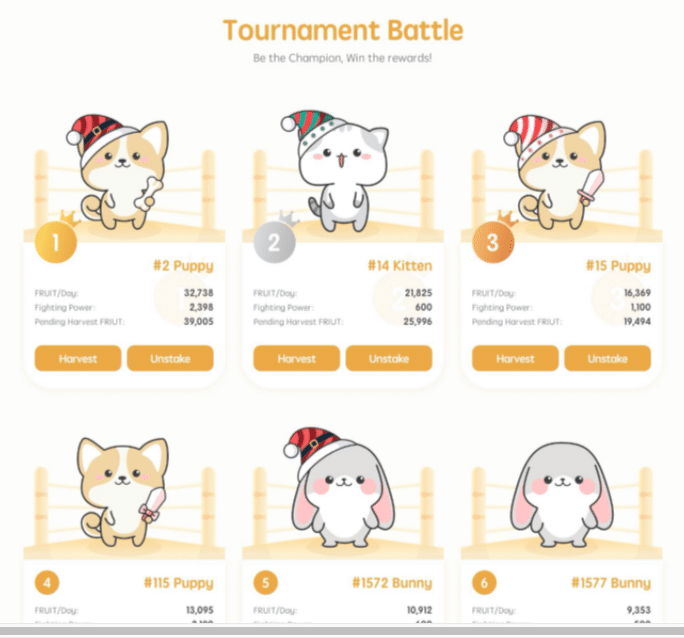 Siege
There are 20 caves and 20 guards. The one that challenges and wins against a cave guard will win the ability to stake their pet in the cave and farm the Battle Pets token, $FRUIT.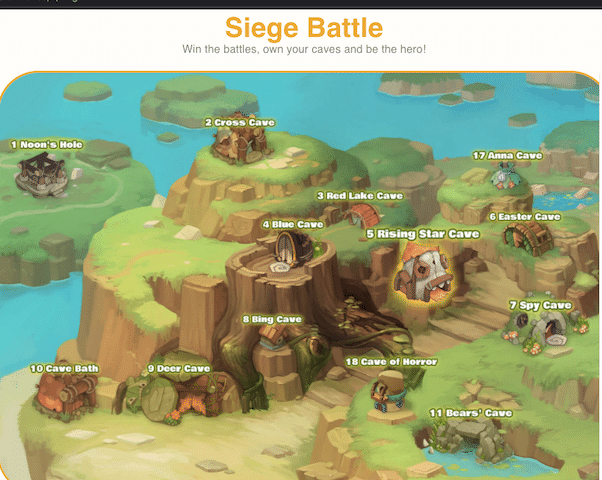 NFT pet eggs, battle pets, and weapons are trading on BAKERYSWAP.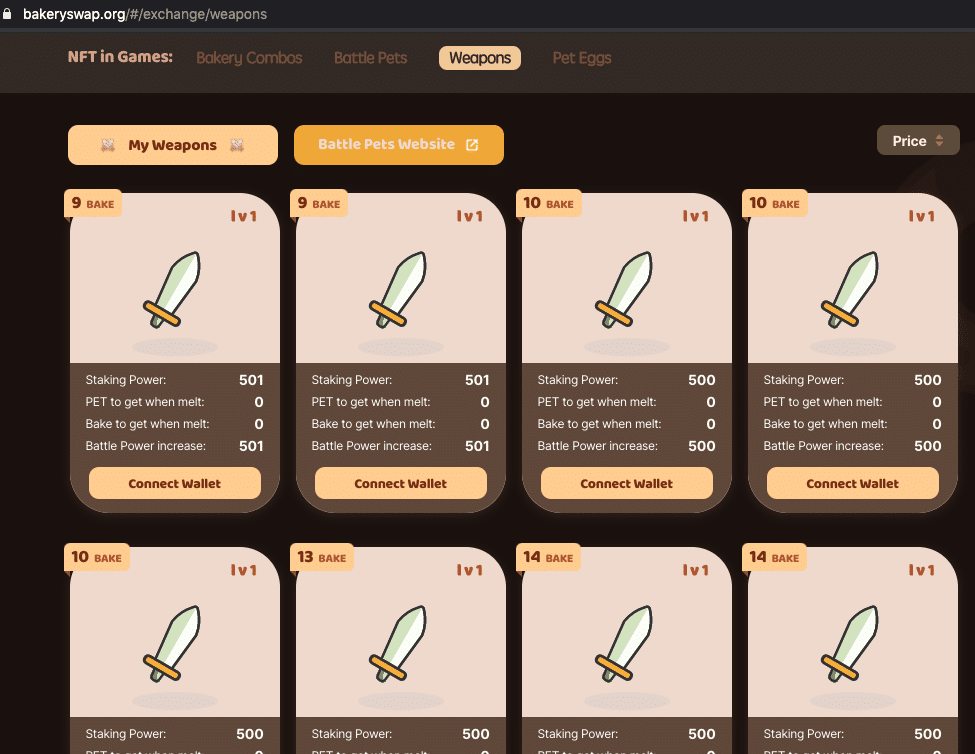 Overall, a fun game with low transaction fees, where you earn and farm saleable NFTs.
Binance Futures Battle
This is a futures trading battle with simple rules. You predict which way the cryptocurrency will move (long or short) in the next five minutes. The battle begins with a five-minute countdown once an opponent is matched.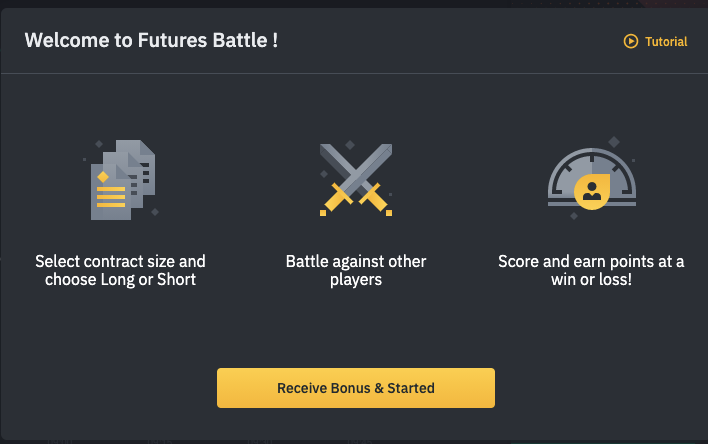 You can use the browser or Binance app and click on "Battle" under "Derivatives" on the Binance home page.
Even losers gain some points and a badge depending on their ranking. The type of badge you have determines the rewards. While the leverage is 20x by default, up to 125x leverage is available.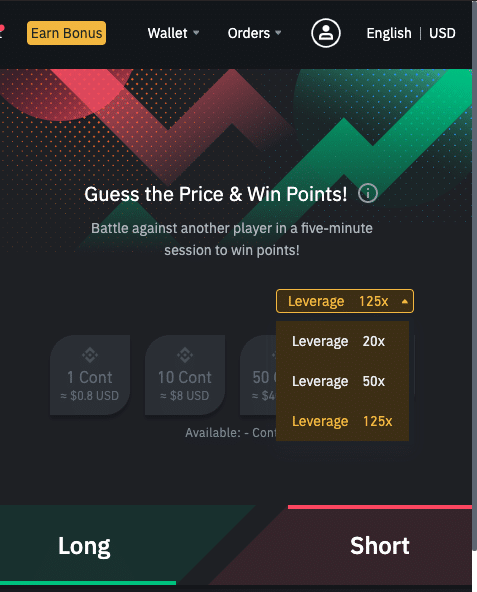 You need a Binance Futures Account with BTC in it, as it is only available for BTC/USD contracts. A fun concept, but money and high leverage involved, making it risky if you are not sure of the direction BTC is headed.
Binance Leaderboard
Would you like to see how a trader made $700,000 profit in a month? What are his trades? How profitable are they? Everything you need to know is on the Binance Futures Leaderboard.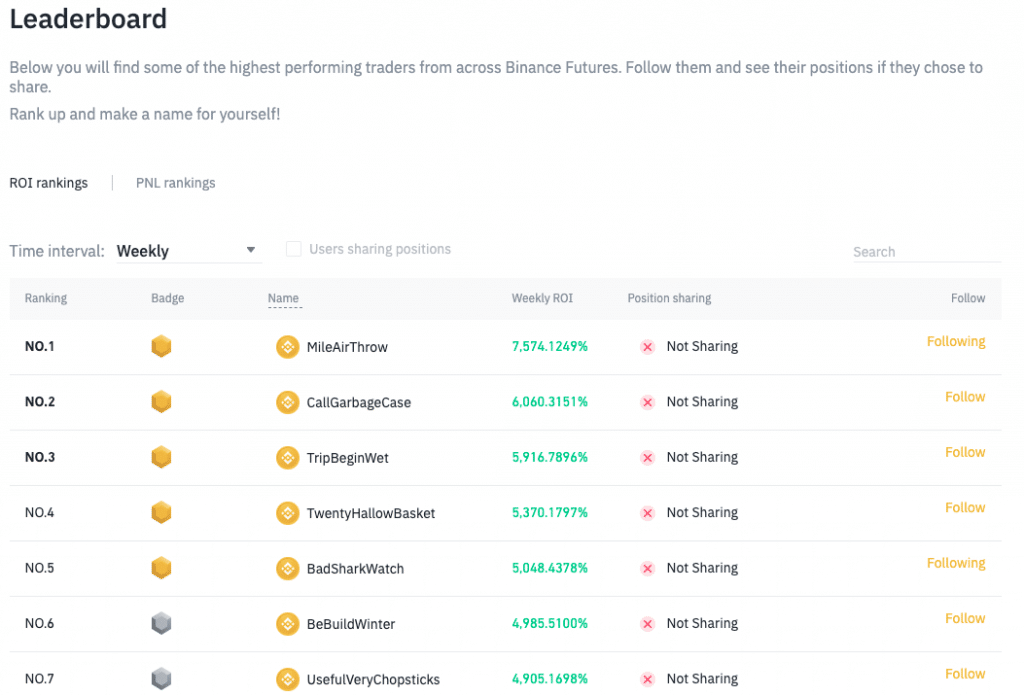 You can also link your Binance Leaderboard profile to your social media. A trader's performance in all time-frames, their returns, and trading records are visible. When ranked traders share details of their positions, others can follow and copy their trades.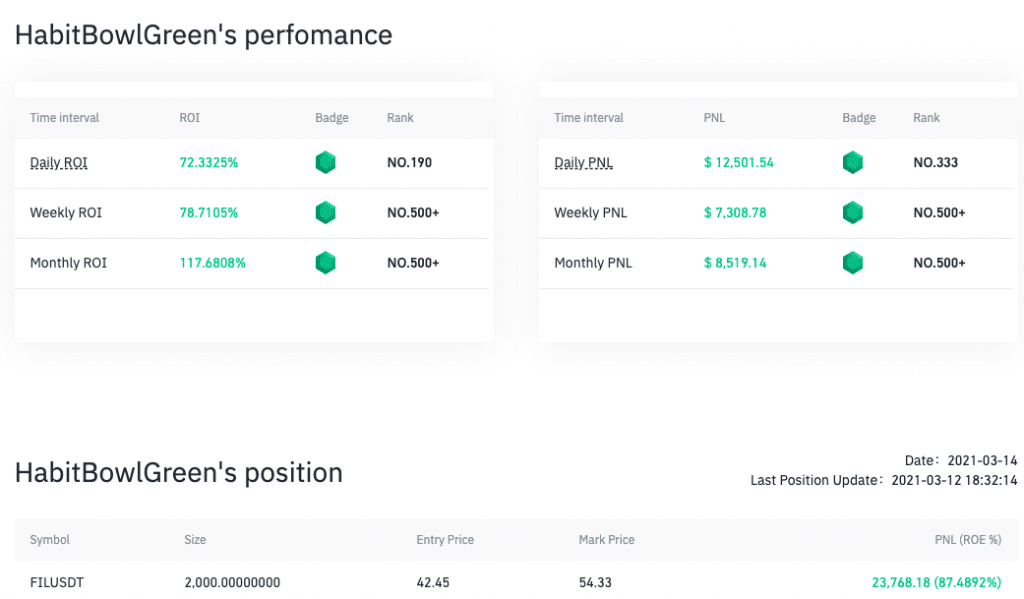 Many of the experienced traders do their own analysis, both TA (technical analysis) and FA (fundamental). Some reveal their entry and exit prices, too. For a novice, interaction with such traders is a great learning experience.
While I genuinely feel Leaderboard is a great opportunity, I have to remind you to trade responsibly. We cannot forget that traders with big investments can afford to use high leverage. They have enough funds to avoid liquidation during high volatility. When traders with limited funds follow them, the possibility of liquidation is high.
Price Protection
Available on Binance futures, the aim of Price Protection is to protect you from the notorious volatility of the cryptomarkets. You set your "Take Profit" and "Stop Loss," and your orders are protected automatically. Many of us have no idea that this feature is now enabled by default for all new and existing users.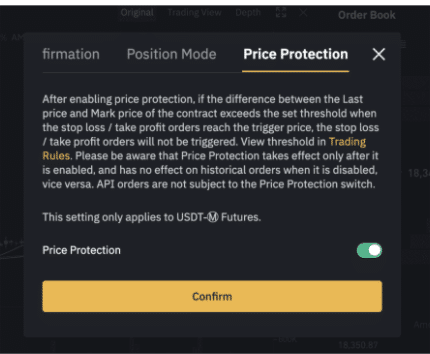 As you can see in the image below, the protection threshold is 5% for the assets listed there. If the Last Price and Mark Price deviate from the given threshold, it is ensured that your Stop Loss and Take Profit orders are not triggered. This means your order cannot be more than 5%, either above or below the current price. Of course, you have the option to disable it manually using "Preferences."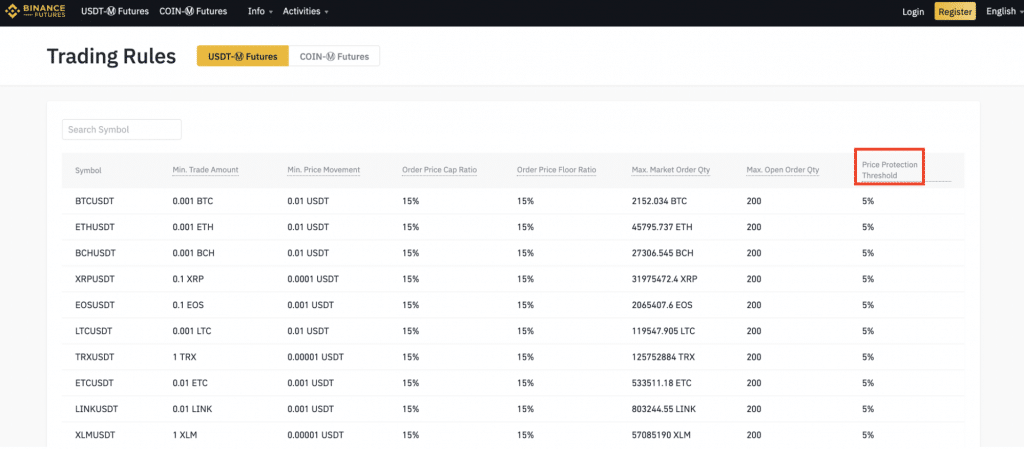 Binance Grid Trading
Grid trading is an interesting robot automated trading concept for Binance Futures. You create an incremental trading grid of buys and sells at various price points and intervals. The idea is to profit from frequent fluctuations within a small price range.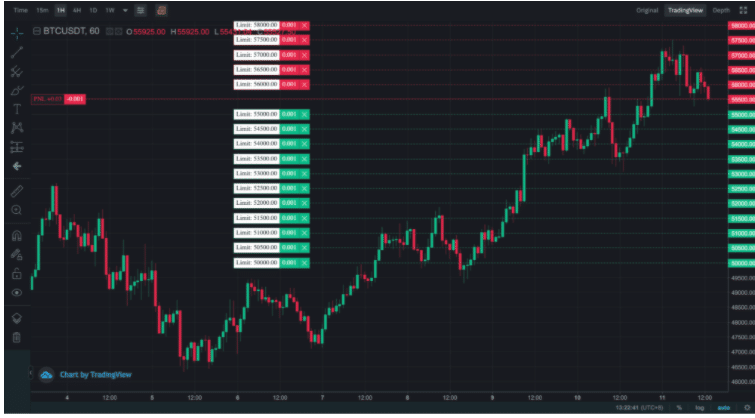 If you predict that Bitcoin will range between $50k and $60k in the next one-day, you can create a grid for BTC/USDT with incremental buy and sell orders within that range.
Isolated or cross-margin trading? What will be your leverage? Arithmetic mode (equal price difference) or geometric mode (equal price ratio difference)? The grid functions are based on the parameters you set on the grid trading panel, namely:
List of buy and sell orders
Highest and lowest price points
Width/difference between each buy and sell order
Number of grids you wish to populate
Here is a BTC/USDT grid in its simplest form. When the price touches any of your price points for buy or sell, an automatic limit buy order is executed.
Grid 1 Grid 2 Grid 3
| | | | | | | | |
| --- | --- | --- | --- | --- | --- | --- | --- |
| 60200 | Sell | | 60200 | Sell | | 60200 | Sell |
| 60100 | Sell | | 60100 | Sell | | – | Sell |
| 60000 | Sell | | 60000 | Sell | | 60000 | Sell |
| 59900 | Buy | | – | Buy | | 59900 | Buy |
| 59800 | Buy | | 59800 | Buy | | 59800 | Buy |
| 59700 | Buy | | 59700 | Buy | | 59700 | Buy |
Grid 1 has all your orders (buy and sell.) Grid 2 shows that the buy order of 59,900 is filled. The grid always leaves a blank in place of the most recent limit order executed. Grid 3 reveals that your sell order of 60100 is filled. Now you see that this is a blank, and the previous buy order of 59,900 is refilled and no longer blank.
While grid trading is a time-tested arbitrage trading strategy popular in FOREX, it can lead to cumulative losses due to several open positions if the price drops and your stop loss doesn't get activated. Keeping a close watch is almost considered mandatory.
Conclusion
Binance exchange has grown by leaps and bounds in the past few years, and CEO Changpeng Zhao, or CZ as he is generally called, has been named 2020's most-notable people by Bloomberg Businessweek. This is attributed to the number of unique services and tools offered by the exchange.
The newly launched Binance Smart Chain brings decentralized trading and a host of new and innovative tools to the digital landscape. Every tool or game is an earning opportunity. Some of you may know of the Binance tools discussed here, but have you used them?