The S&P 500 rose as much as 0.7% to surpass a record 4,000 on Thursday as investors weighed President Joe Biden's newly unveiled $2.25 trillion stimulus plan. The surge was also fueled by a revival of technology shares and optimism around global recovery.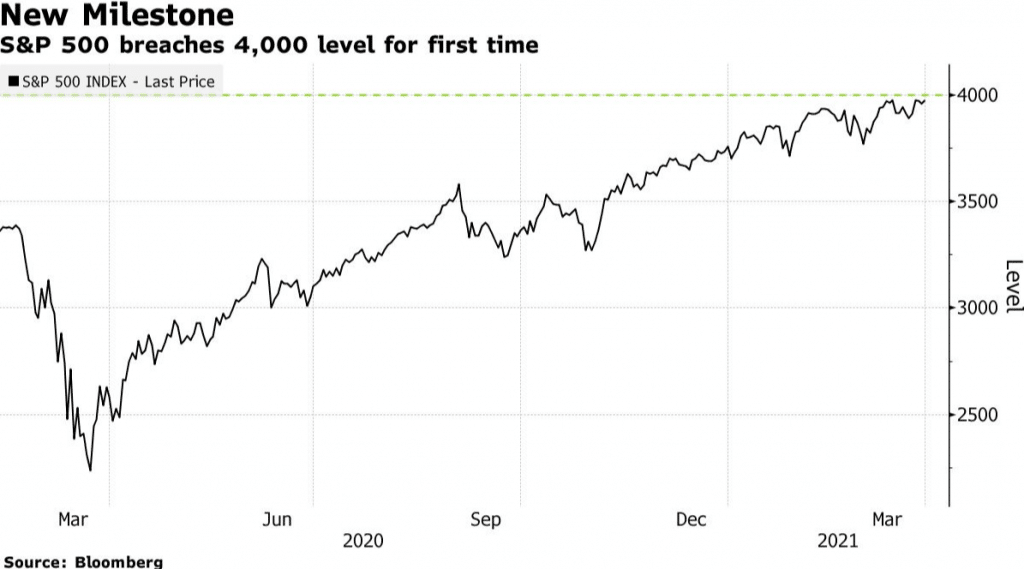 S&P 500 has now taken about 21 months to make a 1,000-point jump, despite taking almost five years for the index to rise from the 2,000 milestone to 3,000 in July 2019.
The S&P recent surge has been largely built on a rise in energy and financial shares as the vaccine rollout picks up speed.
Analysts say the rise is not only driven by a handful of megacap technology stocks, but a broad-based sponsorship across almost all of 11 of the S&P sectors.
So far, S&P has climbed 6.5% in 2020 with energy and financial sectors rocketing 29% and 15% year-to-date respectively.
Analysts now see a 'tug-of-war' between growth and inflation and watch how much the S&P gauge can rally if tech stocks fall too far behind.
Investors' attention now shifts to Friday's employment report, which is expected to show the quickest pace of hiring in five months. S&P 500 is currently gaining. S&P 500 is up 0.91%