There are no physical Bitcoins, and your crypto is on the blockchain. How do you prove you are the owner? Your public and private keys stored in a cryptocurrency wallet identify your ownership.

There are types of wallets: hot and cold. Hot wallets are online, connected to the Internet. Cold wallets are offline, not connected.
Hot crypto wallets are nothing more than just software that stores key pairs on a device connected to the Internet. They are used for regular transactions (ex: trading) and not for the safe-keeping of all your crypto, as being online 24/7 involves risk.
Some of the common functions and features of hot wallets are given below:
Hot wallets create and store public and private keys.
Transactions are created and signed automatically.
User interfaces help to check crypto balances and all transactions in a convenient way.
Fee estimation for each transaction is accessible before the confirmation.
Built-in exchanges are employed for buying/selling/trading.
Hot crypto wallets
Hot cryptocurrency wallets are connected to the Internet to enable access as and when needed. They focus on convenience but are prone to a greater risk of threats, such as hacking, spyware, or botnets. Despite the risks, many of us will need some crypto funds daily for various reasons.
For example, I am a trader and need access to my crypto assets daily. I keep some coins in a hot wallet for easy accessibility and others in cold wallets.
Types of hot wallets are:
Web wallets: hosted and non-hosted.
Desktop/Mobile wallets.
You will also find multisig wallets that allow more than one signature for increased security. Many types of crypto wallets offer this feature.
How do hot wallets work?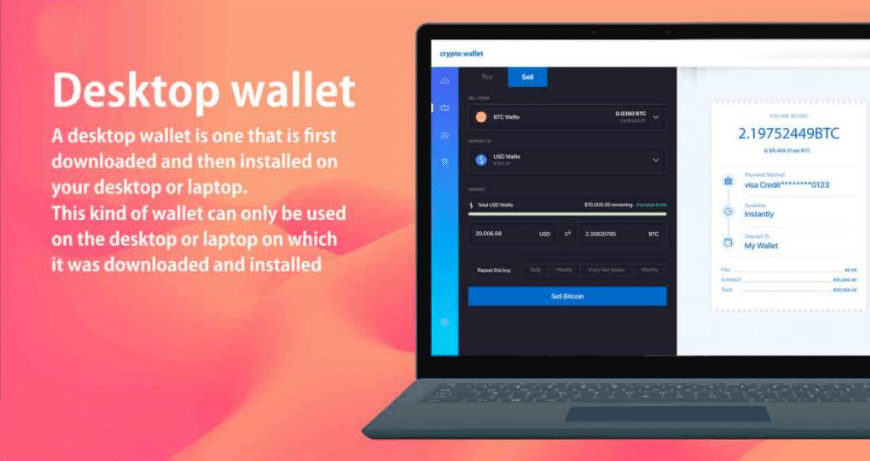 Understanding how cryptocurrency hot wallets work will help you make an informed decision. Thus, let us look at the three types of online wallets that exist.
Hosted web wallets
When you use an exchange like Bittrex or Binance, you are automatically storing your crypto in their wallets. Except for your password, they handle everything else, including your private keys.
Are exchanges safe? Even the most secure exchange is not completely safe. If exchange security is improving, so are the hackers. Exchanges can go bankrupt too.
Cryptopia exchange went into liquidation about two years ago. One moment, I was trading, and the other, the page froze. Grant Thornton, the liquidator hired by Cryptopia, is working on returning the crypto assets to their rightful owners. If this happens, it would be a rare occurrence. In most cases, you may not hear of your funds again.
Non-hosted web wallets
As you know, your crypto is on the blockchain. Non-hosted wallets do not depend on any external source. They connect with the blockchain directly. Control of your private keys is with you. Examples: MyEtherWallet (MEW), Mist, MetaMask, and Jaxx.
Desktop wallets and mobile wallets
Both desktop wallets and mobile wallets are almost similar, with minor differences. You will find only-Bitcoin, multicurrency, and multi-signature wallets. Most desktop wallets support all major operating systems, as well as Trezor and Ledger Nano.
While hot wallets take care of security to some extent, the security measures you implement in keeping your computer or mobile device safe will make all the difference.
Setting up
Let us see how to set up the mobile-only Mycelium wallet.
Step 1. Download the Mycelium Wallet app from iTunes (iOS) or Google Play store and install. I downloaded it from Google Play and created a new wallet.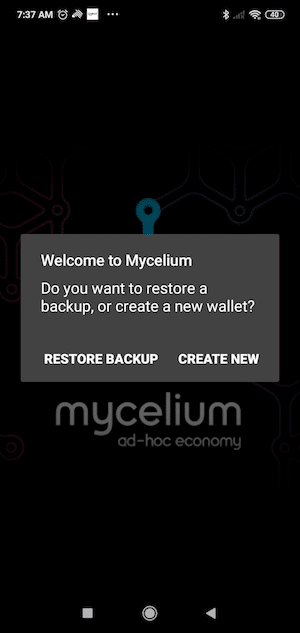 Step 2. After wallet creation, you can start receiving/spending your crypto and perform all other actions the wallet offers. Everything is self-explanatory.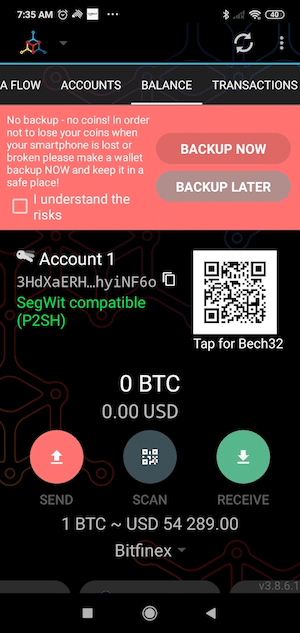 Step 3. Before using the app, click on the ellipsis on the top right to backup the wallet first.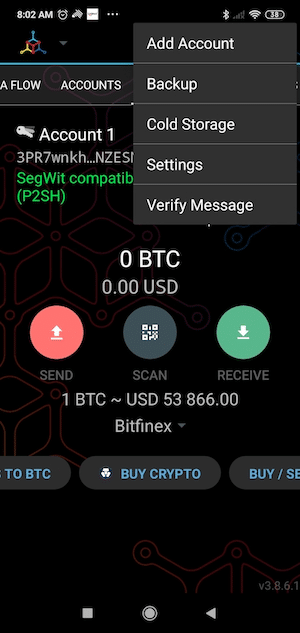 Step 4. The master seed is a 12-word paraphrase. Once you click on "yes," it starts showing you word by word. Write all the words and store them safely.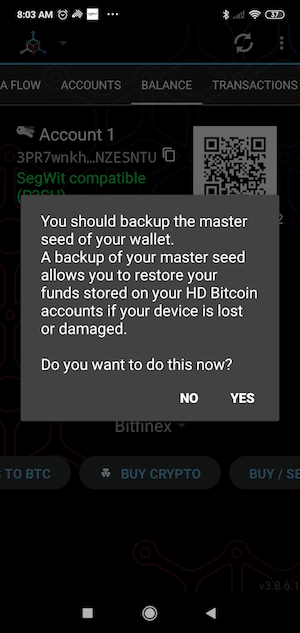 Step 5. Set the PIN. Click on the ellipsis, and go to settings to set the PIN. You will need this to access your Bitcoin. You can retrieve a lost PIN by using the seed.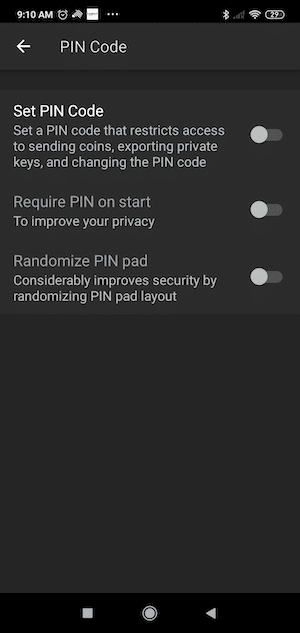 Popular hot wallets
If you Google the term "best hot wallets 2021," you will get 37M results, which can be overwhelming. We are listing below a few popular, reliable, and relatively secure hot wallets for beginners as well as advanced users.
Electrum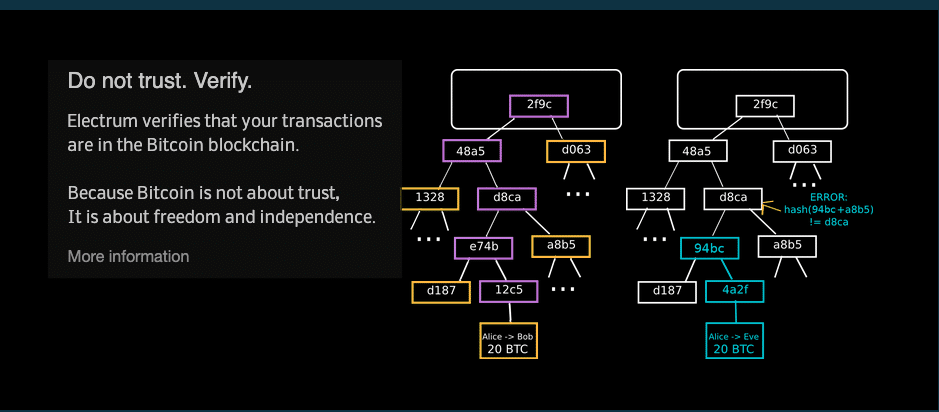 Electrum is a Bitcoin-only wallet and is known for fast transactions. You can create multisig wallets using Electrum. Your seed phrase, private keys, and wallet file are encrypted by default.
An interesting option is that you can freeze a Bitcoin address, which prevents Bitcoin from being spent using that address.
You can use Electrum with all the popular operating systems. It is available for Android but not for iOS devices. Ledger and Trezor are supported.
There is a learning curve involved with Electrum, making it more suitable for advanced users who understand how wallets work.
Mycelium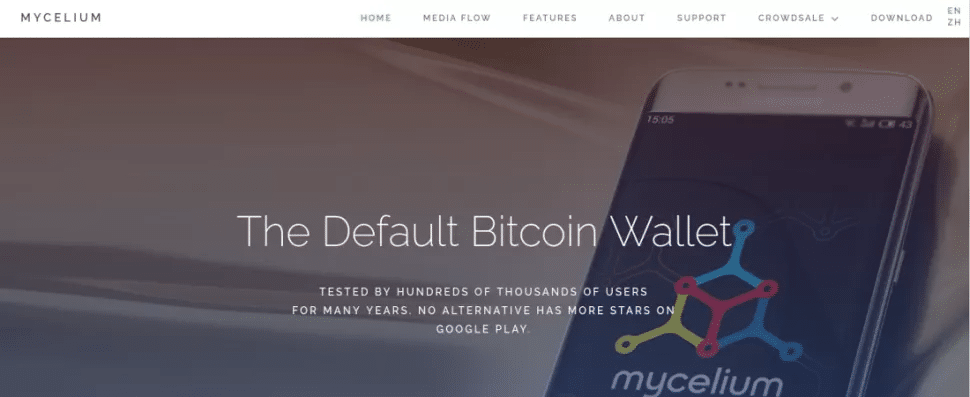 This open-source wallet only supports Bitcoin and offers multisig wallets. It has an integrated marketplace. It is available for Android and iOS mobiles. It works with most hardware wallets.
I like the wallet interface feature that allows you to check the current Bitcoin prices at various exchanges. An address book brings up frequently used Bitcoin addresses instantly. You can customize the Bitcoin fee.
Private keys are stored on your device. Mycelium routes transactions via the Tor network, elevating the level of security.
The downside is the lack of support, which is almost non-existent and the only way to get through to them is via email.
Exodus

It offers support for more than 100 cryptocurrencies. Exodus is meant for both desktop and mobile (Android and iOS) platforms. The wallet has an integrated exchange.
Known for its excellent interface, Exodus is perfect for beginners. You just have to install and start using the app.
You can set custom fees only for Bitcoin. A 12-word seed phrase can recover lost passwords. Private keys remain on your device.
Exodus seems to have compromised on security while ensuring great functionality. Since it is a good wallet, I suggest you use it with small amounts of your crypto assets.
Trust Wallet

Thousands of cryptocurrencies are available on Trust Wallet, and you can use the app on Android and Apple mobile devices.
Swapping coins, trading, and staking are all possible. A DApp (decentralized application) Web3 browser comes with a collection of DApps on the marketplace. With the launch of the Binance Smart Chain, now you can also store NFTs in your wallet.
There is no KYC requirement. Your recovery phrase is essential for restoring the wallet. I use this wallet and find it convenient due to a large number of crypto assets available.
Atomic Wallet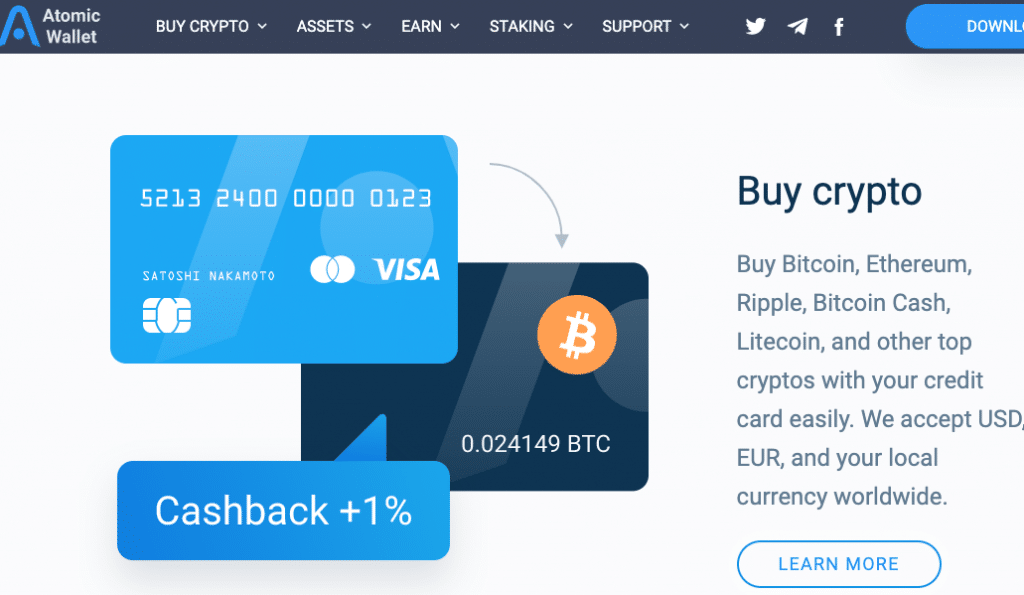 Atomic wallet is a multi-currency desktop and mobile wallet with a built-in exchange. You just have to download and install the wallet without any verification or registration. Make a note of the seed phrase and keep it safe.
This crypto wallet offers cross-chain atomic swaps for about 60 cryptocurrencies. Swapping or exchanging your Bitcoin and other currencies is anonymous.
Conclusion
Each hot wallet is designed differently, and the developers usually try to balance ease of use with rich features and security. This does lead to some compromise on wallet security.
You can bring the security to a new level by constantly using different wallet addresses to transact. By doing this, you are ensuring that nobody can associate your transactions with your hot crypto wallet.