Eurozone's Construction Total Activity Index rose from 44.1 in January to 45.0 in February, according to IHS Markit press release. The index signaled a softer albeit a contraction in construction activity on impacts of COVID-19.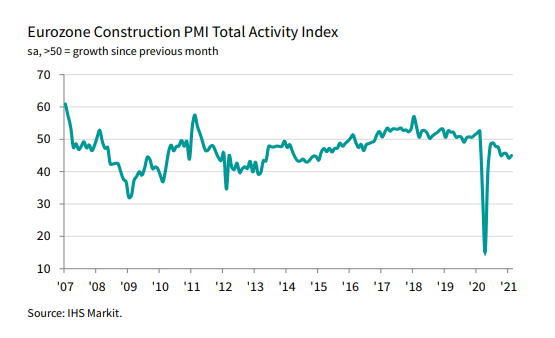 Housing projects decreased in February, marking the twelfth consecutive monthly fall, although the contraction eased from the January levels.
Commercial construction activity contracted, but the pace eased from January and was the softest since September 2020.
The downturn in civil engineering activity continued in February, and the rate of decline was the quickest since May 2020.
New business received by Eurozone construction companies continued to fall in February.
Employment levels fell further, although the pace of job shedding eased and was marginal overall.
German construction activity experienced a rapid fall and was the fastest since May 2020.
Italian firms had the sharpest expansion in activity since October 2018.
Overall, construction firms had stronger optimism over the coming 12 months.
European stocks and the Euro are currently declining. DAX is down 0.22%, EURUSD is down 0.21%