(Statistics Canada) Canada recorded the fastest rise in inflation since 2011, with annual consumer prices rising 3.6% in May.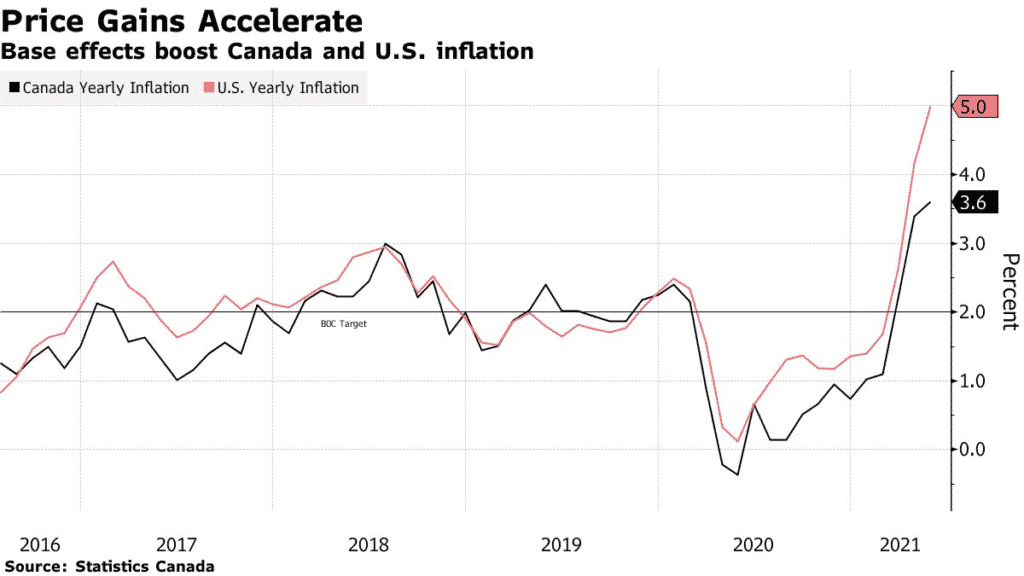 The jump in Canada's inflation was higher than expected 3.5% gain. Inflation climbed by 0.5% from April level, beating the estimated 0.4% increase. Core inflation jumped from 2.1% to hit the highest reading of 2.3% since 2009.
Despite the surge in inflation, Canadian policy makers are assuring the market that the uptick is temporary.
Canada's central bank expects a downward pressure on prices in coming months once more material supply gets into the economy.
Inflation is expected to hover around 3% in the next months before slowing.
Car prices drove Canadian inflation the most last month, after surging as much as 5% from last year due to chip shortage linked supply issues.
High demand for housing also added inflationary pressures in Canada, with home prices up 11.3% from last year, the highest annual gain since 1987.
A strong Canadian dollar and a slower opening of the economy offset quick rises in inflation.
Canadian dollar reacts to inflation data. USDCAD is down -0.03%.