Walmart shares fell more than 5% in premarket after reporting record quarterly revenue of $152.1 billion, a 7.3% increase, according to the company's press release. The stock slip was fueled by the retailer's warning that it expects sales to moderate this year while earnings per share will fall slightly.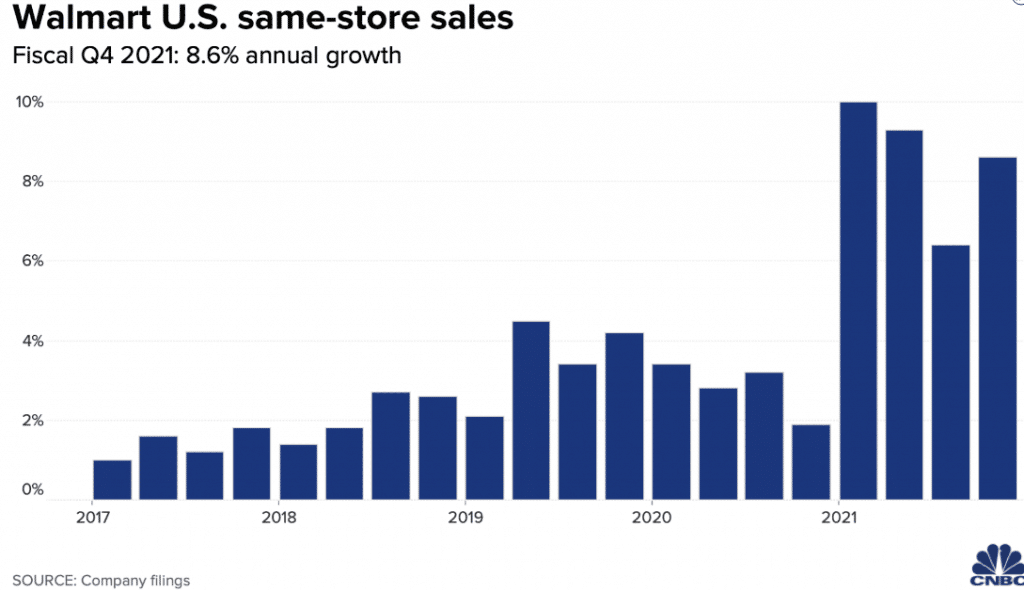 Walmart reported a net loss of $2.09 billion or GAAP EPS in Q4 of ($0.74), down from earnings of $4.14 billion or $1.45 per share a year earlier.
Loss in the retailer's U.K and Japanese operations reduced earnings by $2.66 per share, which was partially offset by a gain of 49 cents per share on equity investments.
Walmart's e-commerce sales in the U.S. grew by 69%, while same-store sales in the U.S. grew by 8.6%, higher than expected 5.8% increase.
The retailer targets $14 billion in capital expenditures this fiscal year, up from $10 billion to $11 billion.
Covid-related expenses rose to $1.1 billion in Q4.
The retailer faces tailwinds from decelerating pace of e-commerce as the global health crisis fades, turning thriving parts of its business such as curbside pickup into money-makers.
Walmart will boost the wage of U.S. workers, raising the average for hourly employees to above $15 per hour.
The retailer raised its dividend to 55 cents per share and approved a $20 billion stock buyback program.
Walmart stock is currently declining. WMT: NYSE is down 5.84%