(St. Louis Fed) A 0.5% jump in hourly wages in May, more than expected 0.2%, is raising inflationary concerns that have gripped financial markets.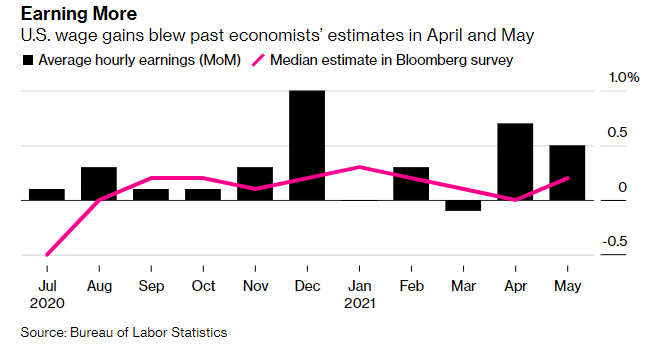 Analysts are interpreting the jump in hourly wages as a likely shortage of people who are ready to work that could see employers increase pay raising inflation.
Inflation data on Thursday is expected to show prices jumped by 0.4% in May, pushing the annual rate above April's 4.2%.
Many analysts interpreted the jump in inflation in April as temporary but rises in hourly wages is adding another twist to the projection.
The wage-spiral inflation fears come when the Fed is still discounting views that wage pressures can exist in an economy with 6% unemployment.
The US recorded 9.3 million job openings in April which analysts now say is a sign that workers could get higher wage bargaining power.