Vantage Point X is a Forex robot that works on both Metatrader 4 and Metatrader 5 platforms. It promises minimum drawdown and a trading accuracy of up to 89%. This EA is powered by AI and has live trading results verified by Myfxbook.
There are three distinct pricing packages for Vantage Point X, and none of them are cheap. The first plan requires you to pay $250 every three months, while the yearly plan costs $500. If you wish to purchase the robot for a lifetime, you need to pay $1000, which we think is a ridiculous amount. This is further compounded by the fact that the vendor does not offer a money-back guarantee.
Vantage Point X Trading Strategy
This Forex EA uses three strategies at the same time, looking for lucrative trading opportunities. As per vendor claims, the robot can stay ahead in the Forex market by using its own algorithmic strategies. It analyzes the data for the past ten years with the help of artificial intelligence to predict future occurrences. This is a robot that follows a high-frequency trading approach.
One that we find disappointing is that the vendor has not explained anywhere what these three strategies are. We would have liked to know each strategy in detail because it would have helped us gauge the robot's profitability to a certain extent. The total lack of information about the trading strategy might deter many individuals from investing in Vantage Point X.
Vantage Point X Features
Vantage Point X has an equity protection feature that is supposed to keep your account balance safe. As per vendor claims, it keeps the drawdown minimum while achieving the highest possible accuracy. It allows you to trade the major news event that causes shifts in the price of currencies. Support is provided to all customers on a 24/7 basis. You can use this EA to trade in multiple pairs simultaneously.
Vantage Point X Backtesting Results
Unfortunately, the vendor has not provided the backtesting results for Vantage Point X. This comes as yet another disappointment, considering most traders look for backtesting data while researching Forex robots. These tests are performed using historical data, and it pits the robot against different market conditions, thus testing its adaptability.
From backtests, we can know about some important performance factors like profit factor, relative drawdown, profitability, etc. We hope the vendor decides to include this in the future.
Vantage Point X Live Trading Results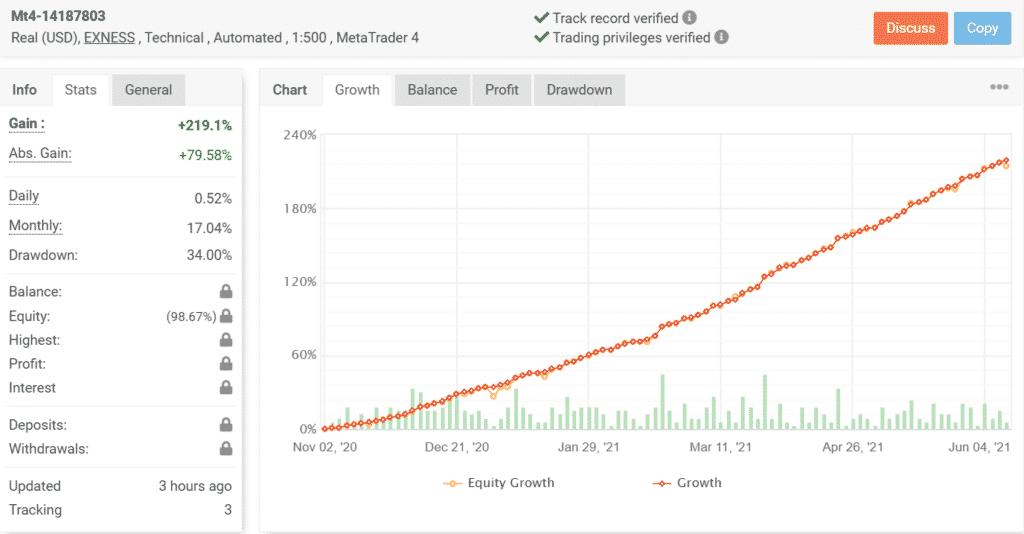 This live trading account on Myfxbook has been active since November 02, 2020. To date, 387 trades have been placed through this account, out of which 311 have been won. Thus, the win rate for this account is 80%. It is a bit odd that the vendor has chosen to conceal some parameters like Deposits, Withdrawals, Profit, Balance, and Interest.
After checking the trading history, we can only see small gains being made with each trade, so this system is not suitable for those who wish to earn big. Another thing of concern is the high drawdown of 34%. It tells us that Vantage Point X follows a risky trading strategy.
Currently, the daily and monthly gains for this account are 0.52% and 17.04% respectively, while the time-weighted return is 219.1%. Almost all of the trades conducted through this account have been for the GBP/USD pair. The robot also placed a couple of trades for USD/CHF, but they weren't very fruitful.
Vantage Point X Reputation
Not much is known about the company behind Vantage Point X. On the official website, we don't have a physical address for the company and the identities of the team members are also unknown. We don't know if this company built any other Forex robots in the past.

On Forex Peace Army, we came across several user reviews on Vantage Point X. One user has claimed that the EA made a loss of $1600 and that it failed to detect the change in trend. Previously, the same user had written a positive review, and this tells us that the robot performed well initially, but faltered as the trend shifted.
Vantage Point X Review Summary
Strategy – 2/10
Functionality & Features – 4/10
Trading Results – 4/10
Reliability – 3/10
Pricing – 2/10
Conclusion
Vantage Point X is an overpriced system without a refund policy that you should not consider buying. It is built by a company we know nothing about and it exhibits high drawdown in the live trading results, which is concerning. Finally, we don't know what kind of trading strategy it uses, so it would be unwise to invest in this EA.