Stock indices advanced Tuesday as investors awaited potentially consequential Georgia Senate runoff election results.
Investors cheered the NYSE decision to shelve its plan to delist Chinese companies for now.
Concerns of tight corporate regulations and tax hikes in Democrats controlled government and more dangerous coronavirus strain linger in the market.
Market sentiments
US stocks soared Tuesday as investors awaited the results of the dual Senate runoff elections in Georgia. The outcome of the election may have significant implications on the market.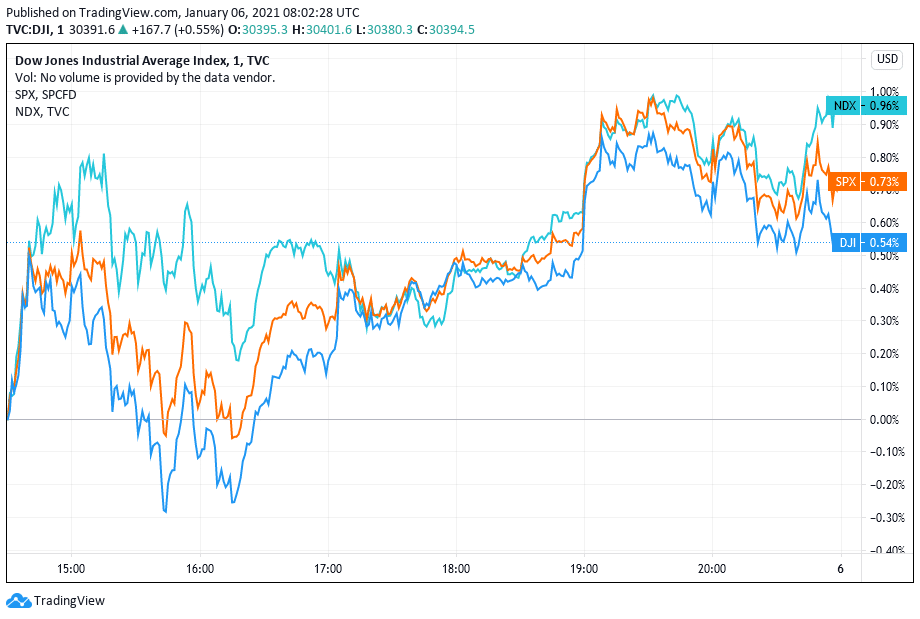 The broader market benchmark index S&P 500 gained 26.21 points or 0.7% to close at 3,726.86 Tuesday. The blue-chip index Dow Jones advanced by 167.71 points or 0.6% to wrap up at 30,391.60. Meanwhile, the tech-heavy Nasdaq Composite added 120.51 points or 1% to finish at 12,818.96.
What is driving stocks now, and what could come next?
The US equities rose Tuesday as the Institute for Supply Management survey also showed that the manufacturing activity index edged up to 60.7 in December from 57.5 in November. Investors cheered the expansion in the manufacturing sector by driving stocks up.
Stocks also rose as the NYSE reversed its plan to delist three Chinese companies. In November, President Donald Trump signed an executive order banning trading in Chinese companies' securities thought to have ties to China's military.
Consequently, the NYSE planned to kick out China Mobile, China Telecom, and China Unicom. However, the exchange announced Monday that it had decided to put on hold the plan to delist the companies. China Mobile, China Telecom, and China Unicom stocks rose 9.3%, 8.8%, and 11.8% Tuesday after the NYSE reversed its delisting plan.
For the next couple of days or so, the Georgia runoff election results will influence equities trading. The outcome of the election could impact the dollar's strength, the size of the COVID-19 stimulus package, and corporate regulations.
Democrats will take control of Congress if they sweep the Georgia elections. If that happens, Democrats in Congress are likely to boost the stimulus package from $900 billion already agreed on by lawmakers under the Republican-controlled Senate. That may be good for a quick economic recovery and may bolster investor appetite for stocks.
President-elect Joe Biden has proposed spending $2 trillion on climate programs. Therefore, a Democrat-controlled Congress may also pursue bigger government spending, especially in clean energy and infrastructure.
However, Democrats controlling both the White House and Congress may be a blow to big tech, banks, pharmaceuticals, and oil and gas industries. Democrats have issues with these industries, so they may face heightened regulatory scrutiny if the Georgia elections hand the Dems the majority they require in Congress.
In addition to possibly tightening corporate regulations, Biden has proposed rolling back Trump's tax cut. Hiking taxes would impact company profits, which may, in turn, affect dividend and stock repurchase programs. Investors keep a close eye on the Georgia elections to see how far a Biden administration could go with shaking up the corporate oversight and tax landscape.
Stock futures pointed to market anxiety Wednesday as early results showed Georgia races too close to call.
COVID-19 resurgence is another issue the market is watching closely. A highly contagious coronavirus strain first identified in the UK is spreading to other parts of the world and driving hospitalization. Investors fear that spiking infections could result in lockdowns that would, in turn, deal a blow to economic recovery. However, vaccine distributions start raises hope that the new wave of COVID-19 infections could be contained faster.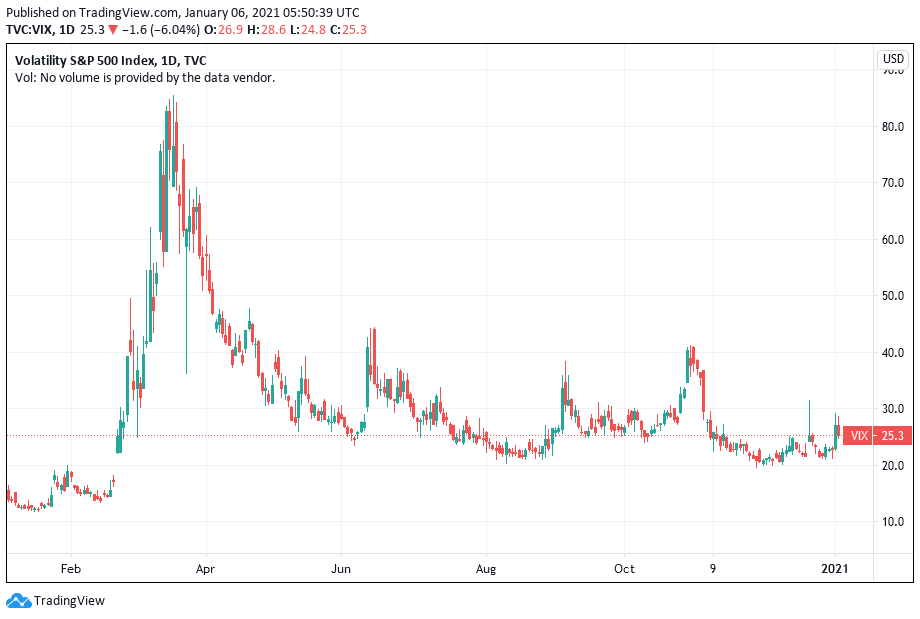 Technicals show investors remain fearful
Although stocks advanced Tuesday, the market remains fearful. The Cboe's Vix index, which shows the expected volatility of the S&P 500 over the next 30 days, climbed to as high as 28.6. Surging COVID-19 patient hospitalization and the bitter battle for the control of Congress continue to keep investors nervous.
Despite the volatility index having ticked up in recent days, it has come down significantly from its pandemic peak in March.