What are expert advisors?
In the trading world, expert advisors (EAs) are programs that are developed and run on a trading platform to facilitate algorithm trading. Depending on the parameters that the trader has set, the EA will monitor markets and notify him/her of the existing trading opportunities. Subsequently, the program can open a trade automatically or you can do it manually.
Think of expert advisors as your helping hand in trading. You cannot monitor all your markets of interest 24/7. An EA will use technical indicators and other tools to identify breakouts and trends to provide you with the signals you need to make suitable trading decisions. Besides, since it is deprived of emotions, it is a suitable approach of protecting yourself from the risks of emotional trading.
What do expert advisors do?
One of the useful tasks that EAs execute is the automation of the decisions and routine activities that a trader would have to do manually. This includes exiting or entering a trade, lot sizing, and the overall management of a trade. Since the robots are operational for 24 hours in a day, one does not have to have his/her eyes glued to the trading charts at all times.
Furthermore, EAs are able to get loads of information on the forex market and present it to the trader in a manner that eases his/her decision-making process.
Types of expert advisors
The design of an expert advisor can be twitched to suit a particular trading strategy. Subsequently, there are several types of EAs. This includes:
News expert advisor: it focuses on news-worthy events or data releases that are bound to impact the prices.
Expert advisor scalper: the role of this expert advisor is to secure small gains as they appear. Depending on the prevailing market conditions, it facilitates the opening and closing of numerous trades as a way of accumulating as much profit as possible.
Breakout expert advisor: it will notify you of a trading opportunity when the price breaks out of the resistance or support level.
Hedge expert advisor: this type of expert advisor plays two roles simultaneously. It will help in reducing losses while facilitating gains.
How to use expert advisors on the MetaTrader trading platform
There are various expert advisors that one can incorporate into the MetaTrader trading platform. Notably, a trader can use several trading robots concurrently. However, it is important to note that some EAs do not work efficiently together.
To get a better understanding of how to install an EA onto your MetaTrader platform, by either using a program or manually, let's consider the MT4 option. Once on the trading platform's menu, click on 'File' and then 'Open Data Folder'. Subsequently, head on to 'MQL4' and then 'Experts'. Several free samples will then appear. To use them, simply paste them onto the 'experts' folder, close it, and then refresh the platform.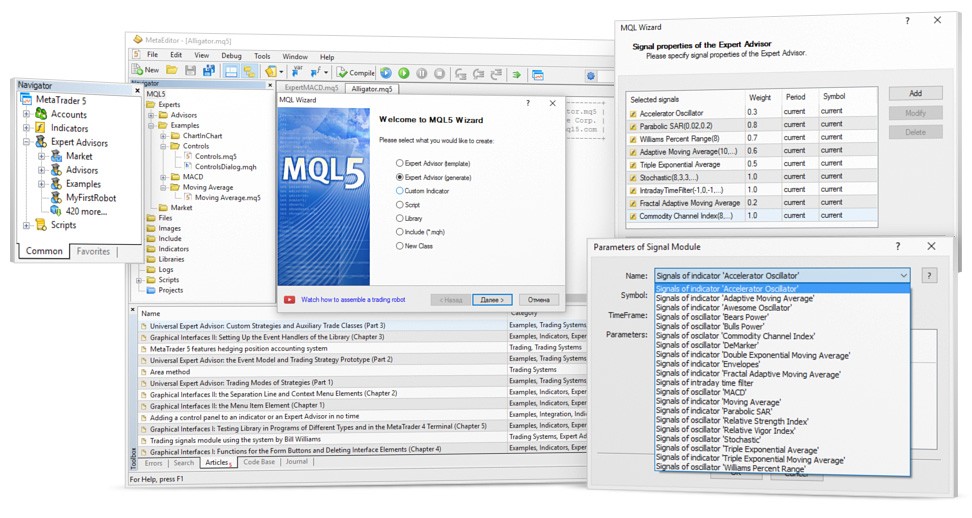 Some EAs come with an install program, which eliminates the above process. All you need to do is to modify it under the 'Settings' section before clicking on 'Auto trading'.
Where to get expert advisors
Some of the platforms where a trader can get an EA are:
MetaTrader 4/5 trading platforms
MQL5
Expert4x