Introduction
Bitcoin is a virtual currency without a physical form and any central point of control. All cryptocurrency transactions take place over the network, but in the absence of a bank vault, you need a most secure cryptocurrency wallet (digital wallet) to store your Bitcoin.
What is a crypto wallet? A cryptocurrency wallet or a Bitcoin wallet helps you secure your cryptocurrencies from unauthorized access. It is a piece of software that contains public and private cryptographic keys, used to send and receive Bitcoin and other supported altcoins.
There are two main categories of crypto wallets: cold wallets and hot wallets.
Cold wallets: Offline cryptocurrency wallets (paper wallets, hardware wallets) are used as a secure bank vault to store Bitcoin and other cryptocurrencies.
Hot wallets: Online wallets that require an Internet connection (desktop wallets, mobile wallets) and are generally used to hold small amounts of crypto required for immediate use.
Most people use both for security reasons.
Hot crypto wallets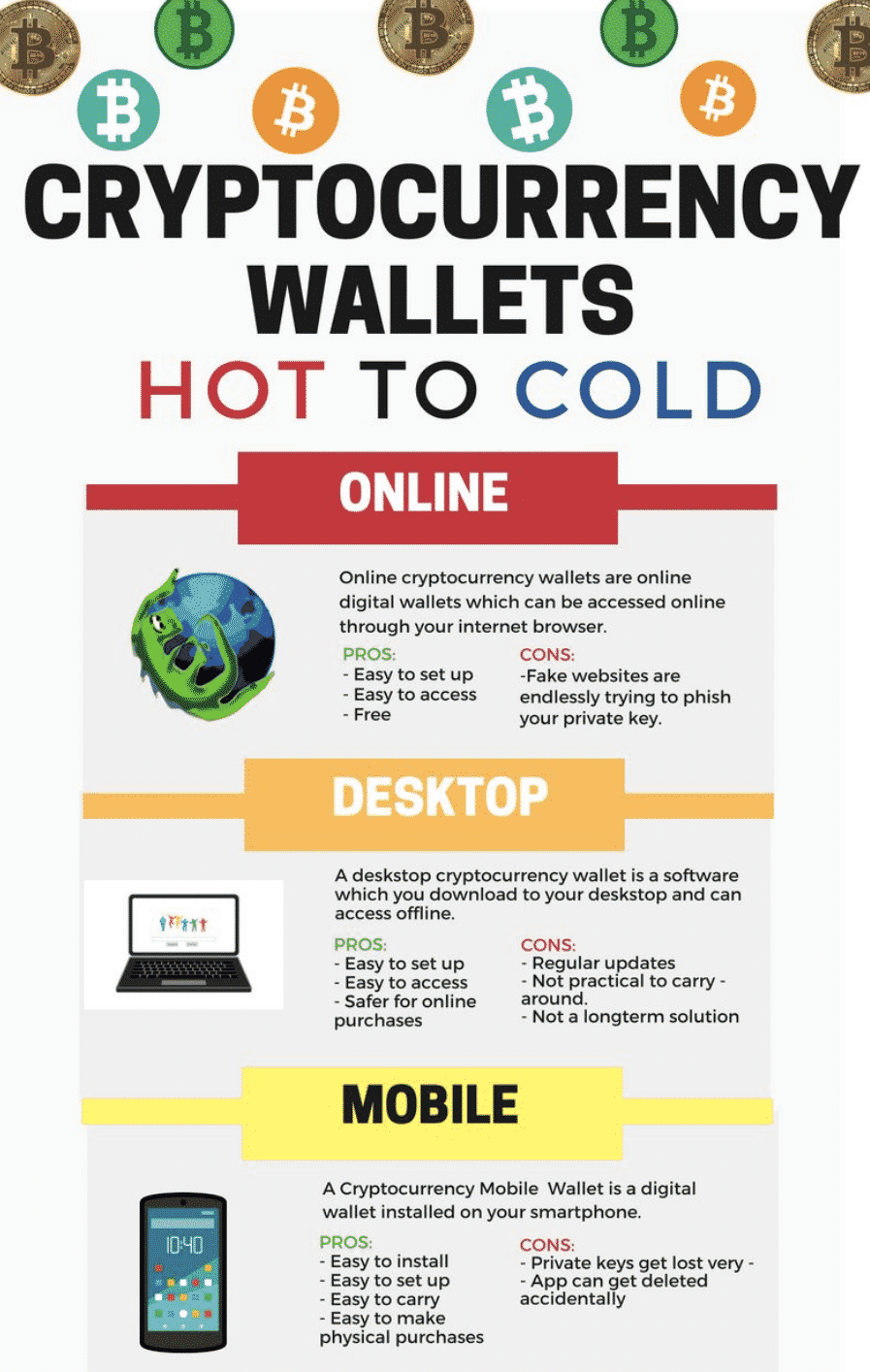 What makes a cryptocurrency wallet "hot?" They are called hot as they are connected to the Internet. Hot wallets are riskier than cold wallets but offer more convenience. It is like keeping cash in your wallet as opposed to the cash in your bank account. They are easy to set up, access, and transact.
Here's a quick look at the four types of crypto hot wallets in existence.
What is a web wallet?
Web wallets are accessed using a web browser. Transactions happen instantly, and many offer multiple currencies. As the control over web wallets is not in your hands, they are not considered very secure.
What is a mobile wallet?
Mobile Bitcoin wallet apps are very popular. You can do everything from sending and receiving Bitcoin/cryptocurrencies, trade, swap cryptocurrencies, check charts, prices, and available balances. They also offer QR scanning.
What is a desktop wallet?
They are considered more secure than the web and mobile versions, as long as you keep your computer secure and take regular backups.
Multisig wallet
This offers greater security as two or more private keys are required to access your cryptocurrency, depending on the security level. Example: Electrum.
Bitcoin wallet security
Transferring Bitcoin and altcoins easily within a matter of minutes also comes with increased security issues.
There are two important security aspects to cryptocurrency wallets:
Protection against loss
Protection against theft
Public and private keys
As a crypto wallet user, you will have access to a set of private and public keys.
Public key: It is like a username that helps identify you. Your wallet address on the blockchain is identified by your public key, and your transaction is confirmed as valid.
Private key: It is like a password to your wallet. This is essential for you to approve and perform the transaction you desire.
Note: Store your private keys in a secure place that you will remember. If you misplace your private keys, you lose access to your bitcoin. If hackers steal your keys, they gain access to YOUR bitcoin/cryptocurrencies.
You will find the story of Stefan Thomas online. He owns 7,002 bitcoins but is unable to retrieve them as he lost his private keys.
Setting up
How to set up a hot cryptocurrency wallet? You can get started by installing the cryptocurrency wallet app of your choice. Upon installing the software, a Bitcoin wallet address is created.
Let's take a look at the installation process for the Exodus wallet for macOS:
Step 1: Download the app. Choose a download option. I downloaded the desktop version of the Mac app for this example.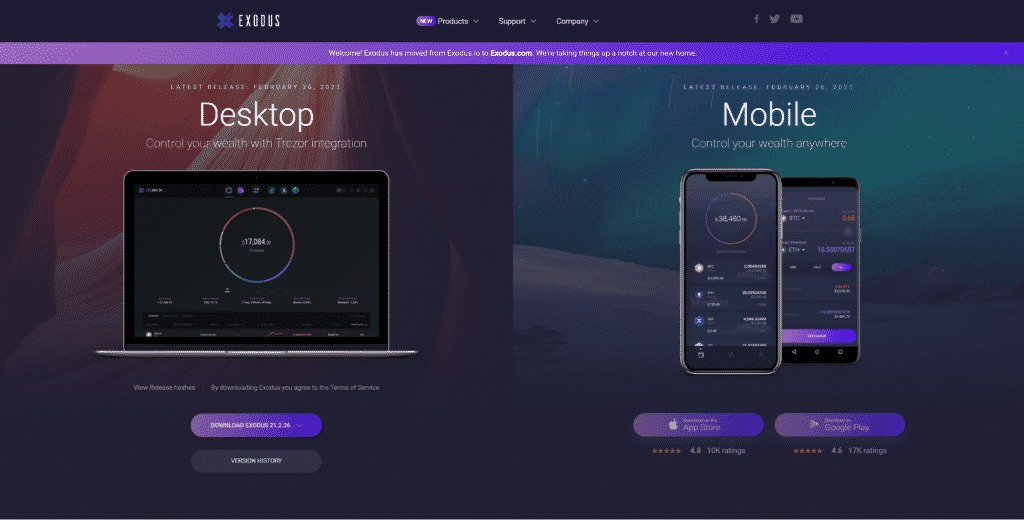 Step 2: Run the application and open the app.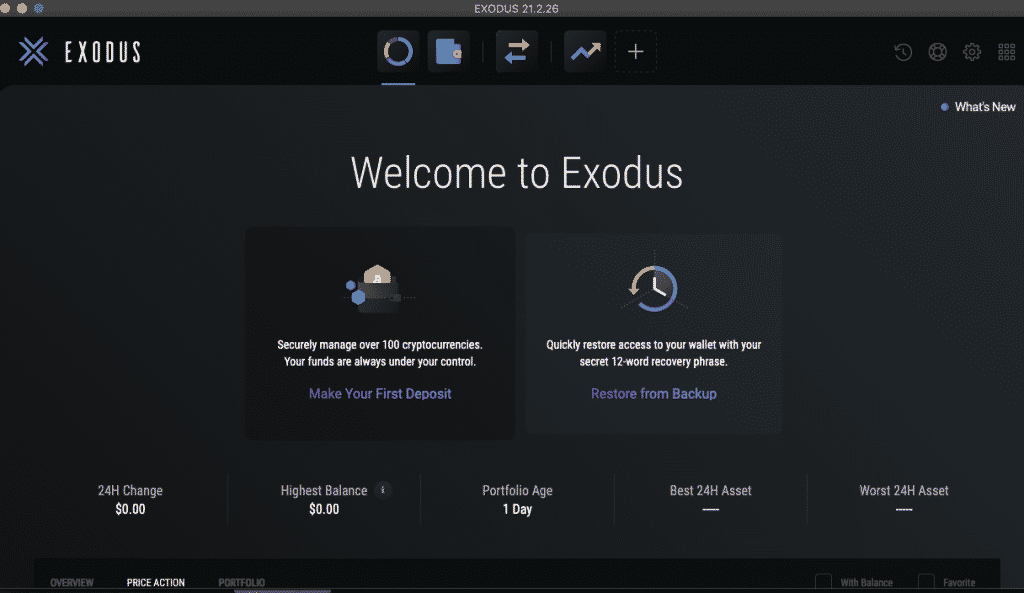 Step 3: Private keys. You can view your private keys by clicking the ellipsis on the right. Copy and save them somewhere safe, where you can access them again.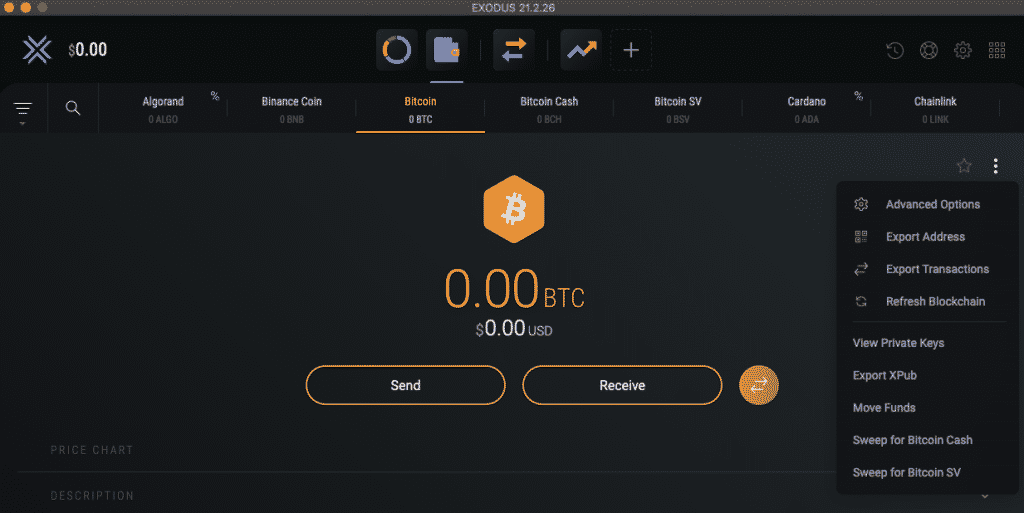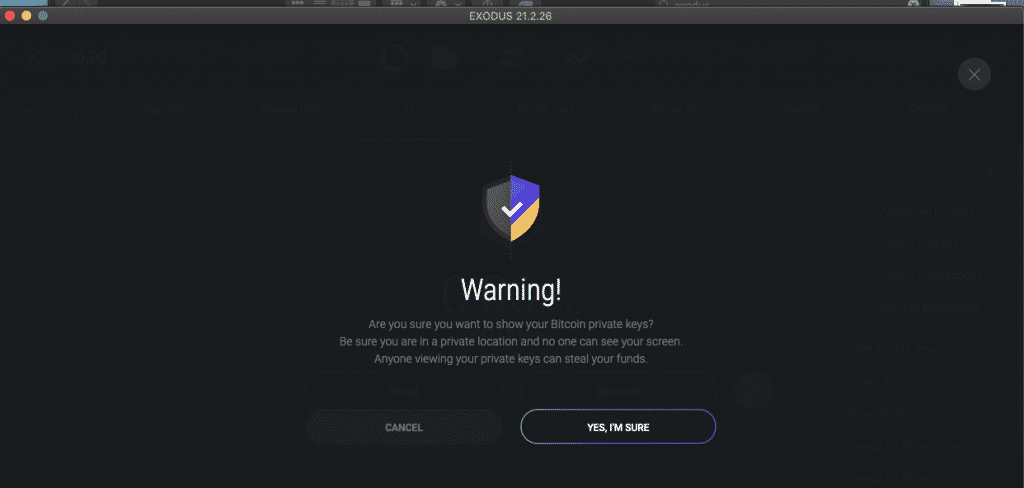 Step 4: Send and receive Bitcoin and other cryptocurrencies supported by the crypto wallet. Enter the receiver's address to send cryptocurrency from your wallet. Receive cryptocurrencies by giving them the specific crypto asset's receiving address.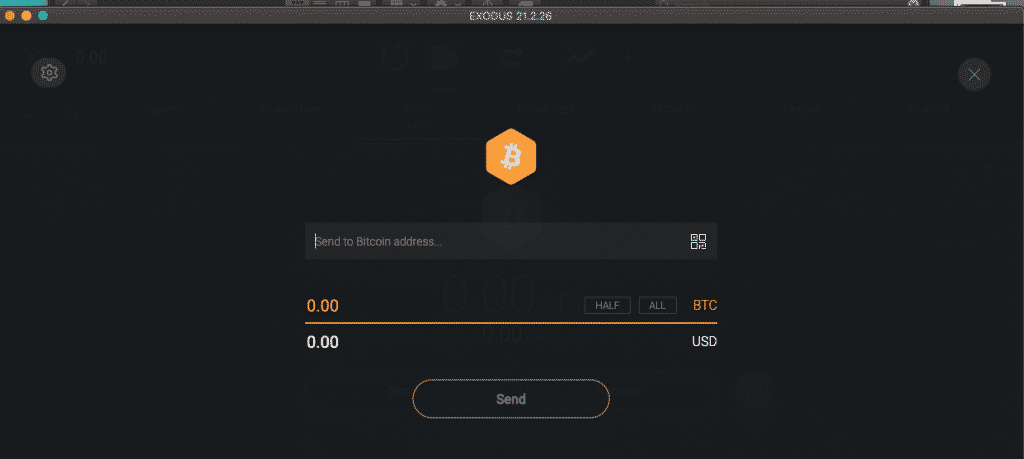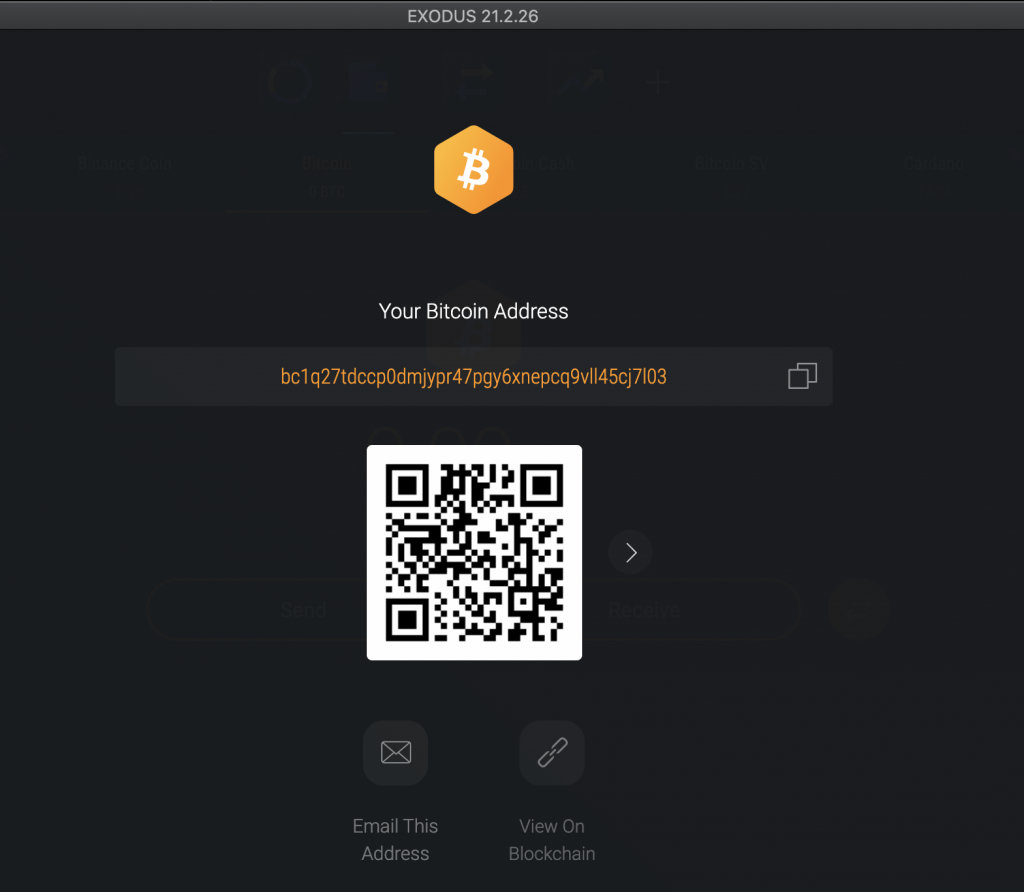 The process for almost all Bitcoin wallets is as simple as this instruction.
Note: The addresses for each cryptocurrency will be different. Sending to the wrong address will result in the loss of coins.
I once sent BTC to a BCH address on the Bittrex exchange. Fortunately, Bittrex support could retrieve my BTC after four months for a fee. If the crypto sum lost on the blockchain is small, most exchanges may not be willing to go through the retrieval process.
Examples
Whether you are a beginner or have been buying Bitcoin for a while, you need a Bitcoin wallet that makes it easy for you to transact and keep your cryptocurrencies safe.
The following are five of the best cryptocurrency wallets (hot wallets) popular currently.
Exodus (Free)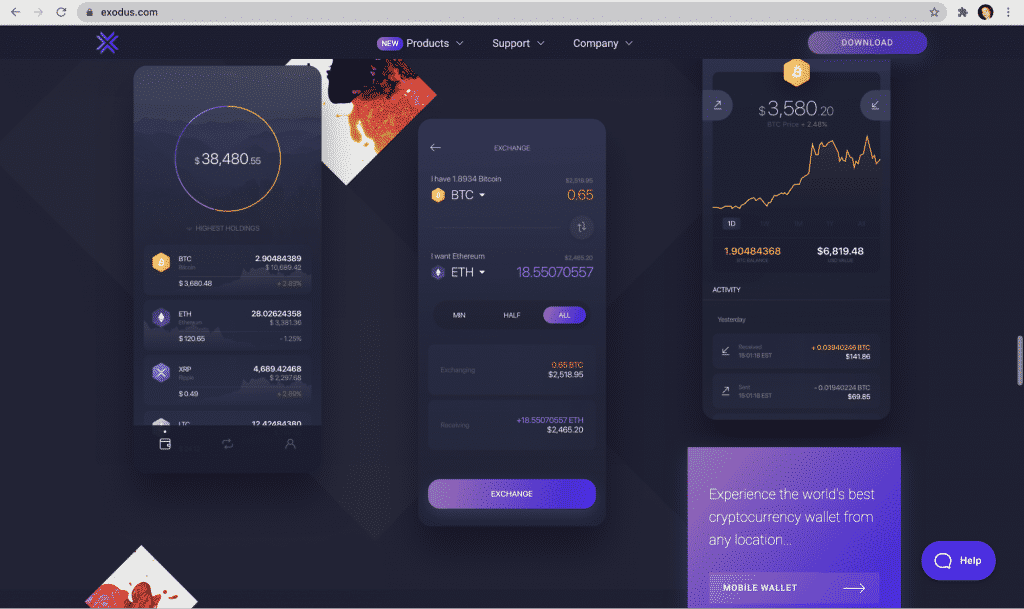 Exodus is a free desktop and mobile wallet. The design is intuitive and perfect for those just starting. It offers multi-currency support of more than 115 cryptocurrencies.
It has a built-in exchange for trading. Compatible with Mac, Linux, iOS, and Android, it also offers support for Trezor.
You can link your desktop and mobile wallets. Custom fees are offered only for Bitcoin. So you may end up paying higher fees for Ethereum and other cryptocurrencies.
It does not require any registration. Identity verification, multi signatures, or two-factor authentication are not supported. I suggest this wallet for beginners or those who are dealing with small amounts of cryptocurrencies daily.
Mycelium (Free)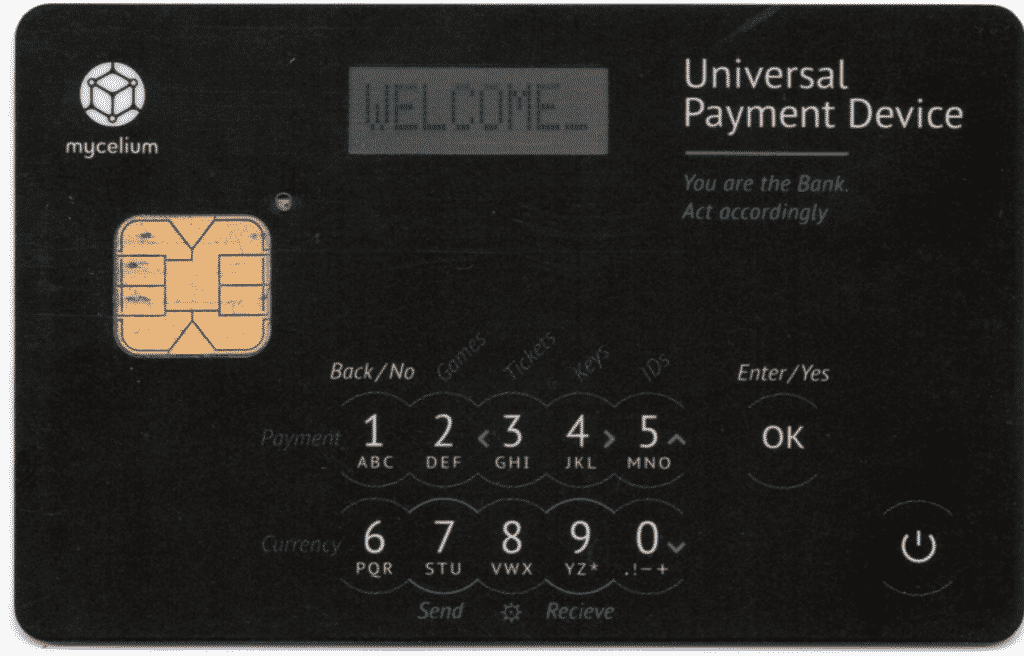 This is one of the oldest mobile-only Bitcoin wallets available for both Android and iOS. It offers support for a few currencies other than Bitcoin, such as ETH and ERC-20 tokens. The built-in exchange makes it easy to buy and sell from within the app.
This wallet offers QR-code-based payments and complete control over your private keys.
It is open-source and allows you to set custom fees. Cold storage support and hardware wallet support for Trezor and Ledger are available.
The user interface is not easy to figure out for a beginner.
Electrum (Free)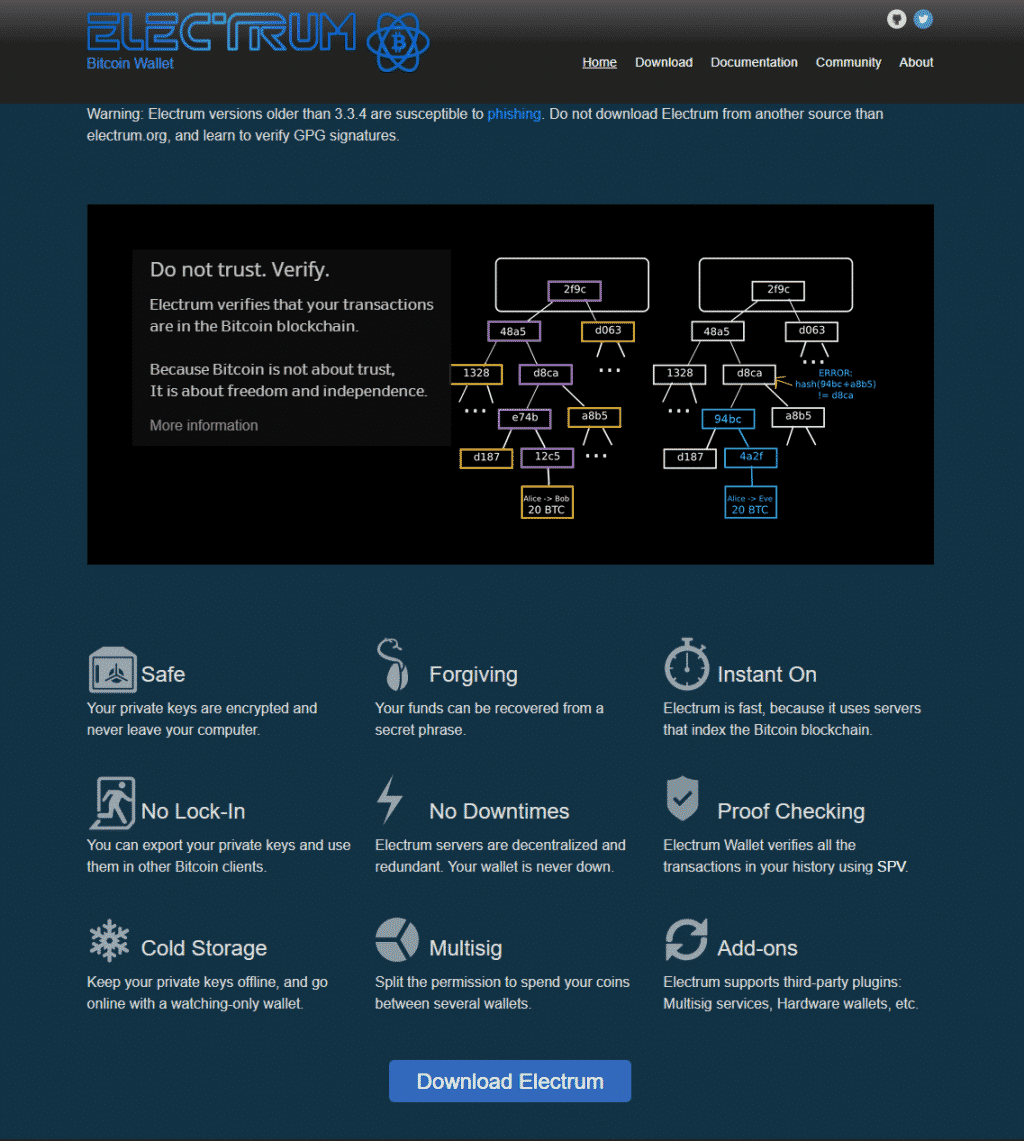 Electrum is one of the first Bitcoin wallets that came into existence in 2011. It is available for Mac OSX, Windows, Linux, and Android. It supports only Bitcoin.
The standard Bitcoin wallet requires one key verification. The multisignature wallet allows up to 15 authentication keys. The 'preview wallet' is a unique wallet type that only allows deposits, viewing transactions, and balances, but not withdrawals. Paper wallets are also available.
Electrum supports hardware wallets such as Trezor, Ledger, KeepKey.
Electrum offers better security than most other hot Bitcoin wallets.
Private keys are encrypted and stored on your computer, giving you full control. You are given the option to encrypt your wallet or use it unencrypted. It is safer to encrypt as others cannot gain access without a password.
A seed is generated when creating a wallet, which is required to recover your wallet in case of loss of access.
An added security measure is the rotation of addresses, making it difficult for others to track your transactions.
Electrum supports Tor, and this blocks your IP address from external servers, adding to your privacy protection.
The only drawback is the lack of integrated exchange for buying cryptocurrencies. You will have to buy your Bitcoin on an exchange and transfer it to Electrum.
Electrum can be confusing for beginners as it requires some technical knowledge and understanding of how Bitcoin works.
Trust Wallet (Free)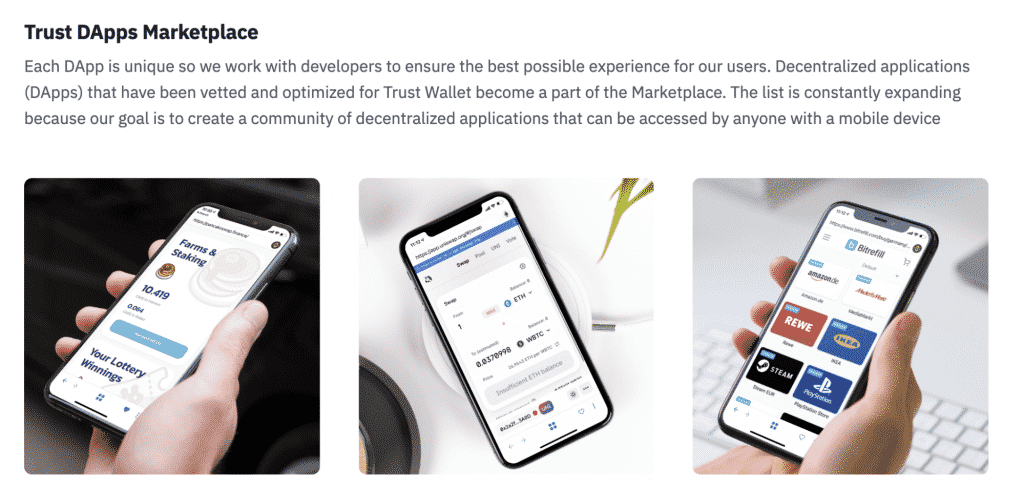 I like the mobile-only (iOS and Android) Trust Wallet for the ease of use and multi-currency support of more than 160 cryptocurrencies. It is the official hot crypto wallet of Binance.
It is an HD wallet that uses a seed backup feature, enabling easy restoration in case you lose your mobile device.
Trust Wallet has a Web3 browser through which you can gain access to many decentralized apps (DApp) without leaving the wallet.
Bitcoins and altcoins can be imported from paper wallets using your private keys. No usernames/passwords or email verifications are needed for using Trust Wallet, making it a perfect wallet for beginners.
Guarda (Free)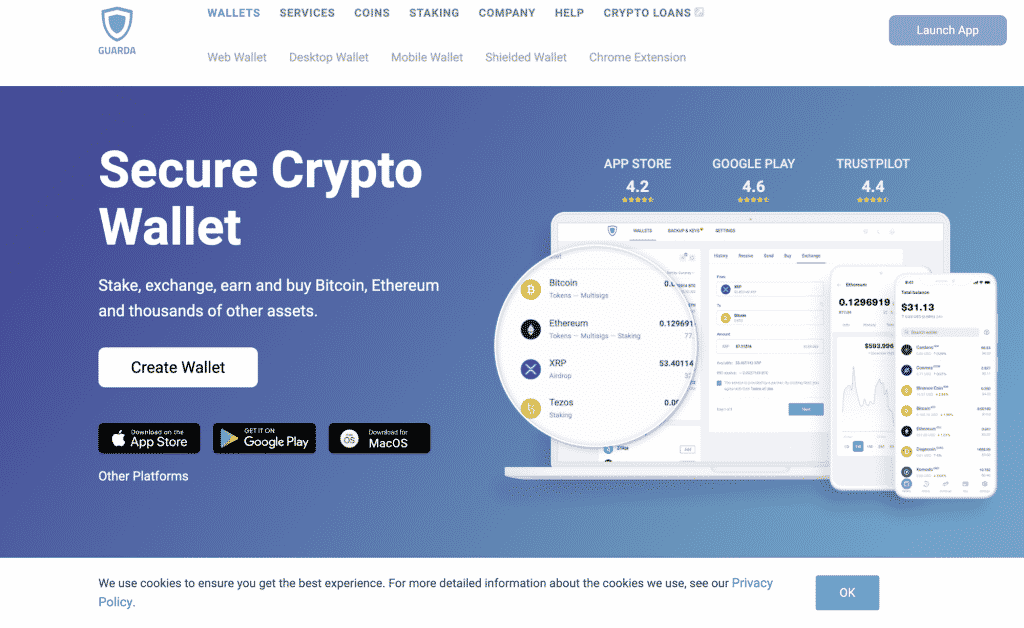 A web, mobile (iOS and Android), and desktop wallet, Guarda is open-source and also available as a Chrome extension. Many popular altcoins are supported.
This free cryptocurrency wallet has been gaining traction lately for trading, staking, and custom fees features.
Guarda web wallet offers the capability of connecting to the Ledger hardware wallet.
The wallet comes with security measures such as encrypted private keys and multi-signature capabilities.
However, you will be charged extra fees if you want to buy crypto assets on their platform.
Conclusion
While your digital assets are safer in a cold wallet like a cryptocurrency USB wallet, a Ledger, or a Trezor, staying away from hot wallets may not be not entirely possible. When you regularly indulge in sending, receiving, or trading cryptocurrencies, hot Bitcoin wallets are the answer.
The glaring downside of hot wallets is the compromised security. Using them for small amounts of Bitcoin and altcoins, encrypting your wallets, and keeping your private keys safe can go a long way in ensuring the security of your bitcoin wallet.