Roku's (NASDAQ: ROKU) share price popped by more than 10% on Tuesday after a strong upgrade by Mark Mahaney of Evercore ISI. The stock ended the day at $359, which was 22% above the lowest level in March.
Roku stock upgraded
Mark Mahaney is one of the most respected technology analysts on Wall Street. He works at Evercore ISI and is a common feature in the top financial media platforms. On Tuesday, he released a report in which he upgraded the Roku stock target to $400, reflecting a 25% upside from the closing price on Monday.
Mahaney is not the only Wall Street bull recommending the embattled media streaming company. According to Marketbeat, the average target for the stock among analysts is $390, about 10% from Tuesday's closing price.
Notably, analysts at Needham have upgraded their prediction to $550, while those at KeyCorp expect it to rise to $518. In February, analysts at Rosenblatt upgraded their call to $560.

In his statement, Mark Mahaney pointed to the changing landscape in the media industry as advertising dollars move from traditional channels to streaming and connecting devices. As this shift goes on, Roku will be the most significant player because of its outsized market share in the industry.
Indeed, while competition from companies like Apple (AAPL) and Amazon (AMZN) has risen, the firm maintains more than 40% of the market share, according to Deutsche Bank analysts. Another study by Comscore found that the firm's market share stands at almost 49%, with Google's Chromecast coming in at 22%.
This performance has translated into sales. In February, the firm reported that the number of active customers rose by 5 million in the fourth quarter. They now stand at more than 51.2 million. Similarly, in the quarter, the firm's platform's revenue soared by 81% year-on-year to $471 million. This was helped by the robust advertising business amid the pandemic. Adjusted EBITDA rose to $113 million.
Is Roku stock overvalued?
Many bears argue that the Roku stock price is relatively overvalued. To a large extent, they have a point. Furthermore, the company has a market value of more than $42 billion, making it bigger than some of the biggest media players in the US. Furthermore, this market cap is for a company that generated more than $1.7 billion in revenue in 2020 and a net loss of more than $17 million. It is also facing substantial competition.
Therefore, from a fundamental standpoint, Roku's stock price is overvalued. However, in reality, this valuation can be justified by the strong 81% year-on-year growth rate that is enviable among larger firms. In addition, the company has a strong path towards profitability and a strong market share in the streaming industry. As more people continue to cut the cord, the company will be more valuable.
Roku stock analysis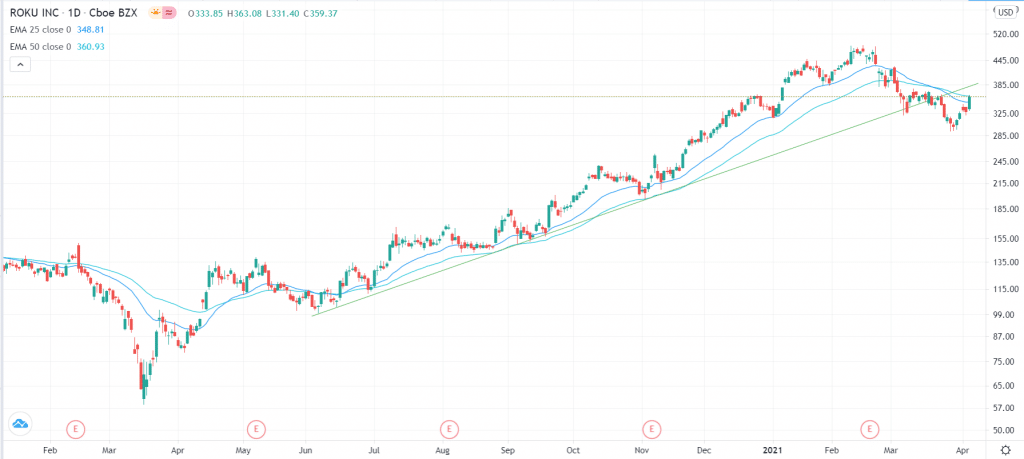 On the daily chart, we see that the Roku stock price has generally been on a strong upward trend. It reached an all-time high of $489 in the first quarter and then dropped by more than 40% as the rotation from growth to value took shape.
Recently, however, the stock has turned around and is attempting to move above the 25-day and 50-day moving average. It is also approaching the ascending trendline that joins the lowest levels since June last year. Therefore, in my view, I suspect that Roku shares will keep rising as bulls target the all-time high, which is about 37% above the current level.