Lizhi is entering strategic partnerships to unlock new revenue streams.
The pivot to branded podcasts looks to be Lizhi's primary play as it aims for more MAUs.
A strong revenue beat in Q1 2021 is a testament to Lizhi's potential to turn its financial situation around soon.
Podcasts have been around since the iPod heydays, but it is only now that they are getting much attention. Many companies, including Lizhi Inc. (LIZI), have stepped up to wrest podcasting from the grip of Apple Inc. through its iTunes service. LIZI is predominantly Chinese, but the Company is making inroads into the global stage. Let us explore this Company in detail.
Lizhi Is Expanding Its Footprint Overseas
China is the largest consumer market globally, but this is not enough to support tremendous growth ambitions, such as Lizhi's. At the core of Lizhi's globalization strategy is the Tiya App launched in 2020. Shortly after the worldwide launch, the App's usage in the US boomed, thus positioning it at position four in the list of social networking apps. Also, Tiya is popular internationally and boasts substantial users in more than 200 countries.
Lizhi's top management is convinced that social networking is shifting towards audio-based interactions. They believe this type of interaction is more engaging and genuine, implying that more users are likely to change that way in the future.
The Company is anchoring its globalization strategy on the in-car audio ecosystem. For now, though, Lizhi has working partnerships with companies in China. Lizhi signed in-car audio collaboration deals with three Chinese auto companies in 2021 alone. They include Li Auto, WM Motor, and ENOVATE Motors. The Company hopes that a successful deployment in Chinese vehicles will provide a solid foundation for a global operation.
About Lizhi Inc.
Lizhi is an audio-based social networking company headquartered in Guangzhou, China. The Company's product ecosystem consists of branded podcast portfolios, user-generated audio content, and audio-based social networks.
The Company started operating in 2010 and has so far launched TIYA App and LIZHI Podcast. TIYA App enables users to create audio communities in which they use voice recordings to share their daily lives with friends. Also, the App supports online chatting and real-time online interactions.
On the other hand, LIZHI Podcast provides a platform where users create and share podcasts amongst themselves. The Company has gone to great lengths to offer high-quality content, including partnering with selected content creators.
Lizhi's long-term goal is to create a global audio ecosystem powered by smartphones and in-car entertainment systems. Various partnerships with auto companies over the past six months underscore this ambition. Lizhi Inc. was listed on Nasdaq in January 2020 through the American Depositary Receipts (ADRs) program.
Lizhi's Fundamentals Are Solid
Usually, it takes time for an upcoming company in a new industry to show financial sure-footedness. Granted, the podcasting space has been around for some time, but it was not vibrant. The sector has gone through a decade of latency before suddenly jumping onto the global scene.
In the latest (Q1 2021) financials release, Lizhi's revenue came in at $75.56 million, 34% higher than reported in Q1 2020. Also, the revenue figure beat estimates by about $3.15 million. The monthly average users (MAUs) for the quarter averaged 59.7 million, up 10% from Q1 2020, and the total monthly paying users reached 474,700, up 5% from Q1 2020.
On releasing the financials on June 1, 2021, LIZI shares jumped 0.13% in after-hours trading. However, the stock was trading at $6.65 or 15.71% lower at the time of writing. The difference could be attributable to natural attrition as the buy-side lessens in strength, but the potential for long-term expansion is intact.
The LIZI stock opened the year 2021 lower, precisely because of weak financials reported for Q4 2020. However, increased podcast usage and strategic partnerships on Lizhi's part have changed the Company's financial landscape. Its financial health, for instance, is looking better than ever. Lizhi's total assets as of Q1 2021 were CNY 405.98 million ($63.48 million) against CNY 297.86 million ($46.58 million) in total liabilities.
The Technicals Support a Bullish Case For LIZI
LIZI went public in January 2020, and the stock entered an extended period of decline for the better part of the year. It helps to note that much of the world was in a period of uncertainty during the year as governments battled the spread of the coronavirus disease. Also, the podcasting industry witnessed a steep incline as more users dropped off to head to video streaming platforms. After all, a Nielsen survey found that less than 50% of podcast listening is done at home.
Nevertheless, the LIZI price action is showing signs of life. In early February 2021, the stock jumped 418% to a record $16.68 after the Company officially launched the LIZHI Podcast platform and the LIZHI Podcast Mini-Program on WeChat.
Following a series of significant developments along with Lizhi's strategy, the stock continued to consolidate and bottomed out at $4.34 on May 26, 2021. The RSI and MACD on the 4-hour LIZI chart indicate firming strength on the stock's buy-side.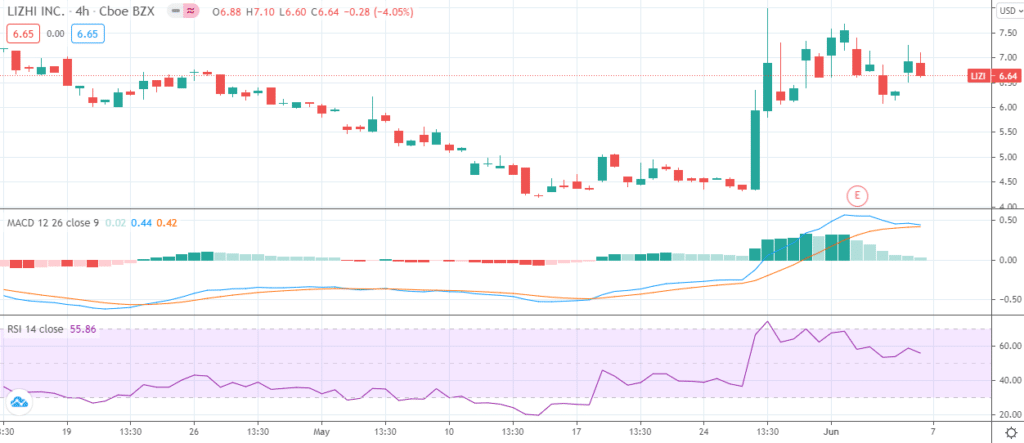 Figure 1: LIZI 4-hour chart
Conclusion
LIZI is a gem flying under the radar, probably because of less visibility to institutional investors. The Company's fundamentals point to a strong future, and the technicals show that buyers are noticing the stock. Based on these reasons, we believe LIZI is a BUY.