U.S jobless claims totaled 744,000 for the week ending April 3, a 16,000 jump from the previous level, according to the Department of Labor press release. The claims were higher than projected 694,000.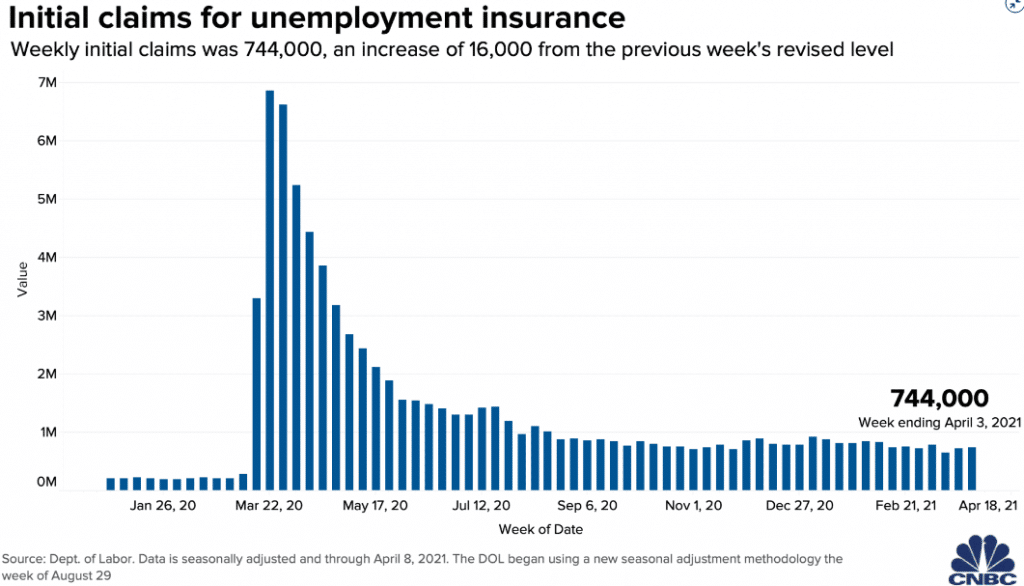 The previous week's jobless claims were revised up by 9,000 from 719,000 to 728,000
Continued claims dropped by 16,000 to 3.73 million, the lowest level since March 21, 2020.
The previous weeks continuing claims were revised down by 44,000 from 3.794 million to 3.75 million
The four-week moving average claims rose by 2,500 to 723,750
Advance actual initial claims under state programs was 740,787 in the week ending April 3, a 2.5% increase from the previous week
Analysts link the high claims with filing backlogs and coronavirus cases spikes in some states keeping filings elevated
U.S stocks are currently gaining as the dollar loses. SPY is up 0.18%, QQQ is up 0.78%, EURUSD is up 0.35%