Shares of the International Holdings Co. PJSC have jumped more than 70% since March 22, according to Bloomberg. The 13-day uninterrupted rally has now propelled the company's value past the $40 billion mark for the first time.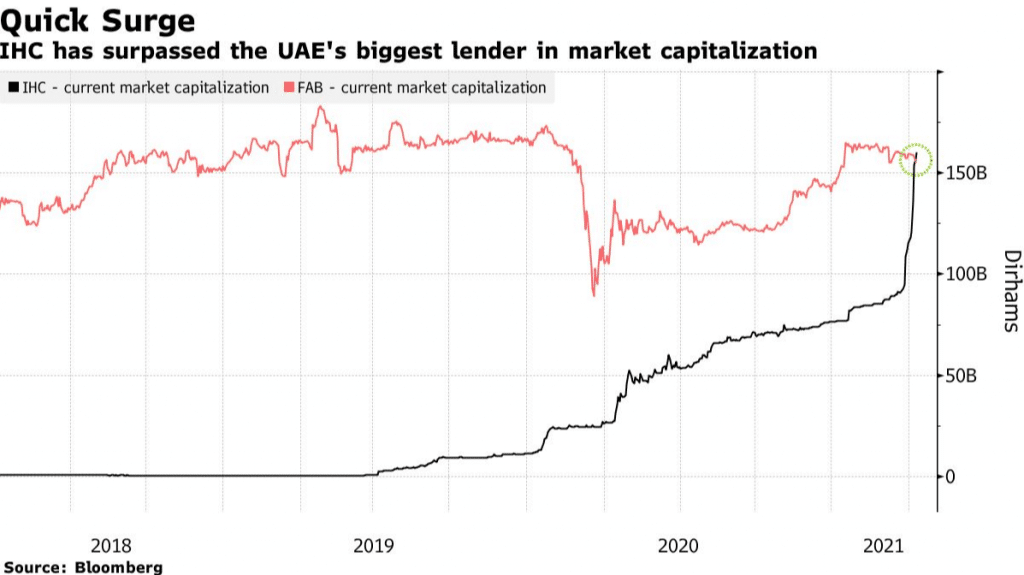 IHC is backed by Abu Dhabi's ruling family and its investment range from Elon Musk's SpaceX to a local fishery company.
The least known company, which not a single analyst covers, has a fraction of its shares concentrated among Emiratis.
Vijay Valecha, chief investment officer at Century Financial, says the IHC's shares are not for the faint-hearted as the stock is suited for growth investors who understand the risk.
IHC has embarked on acquisitions, stepping up investments within and outside the oil-rich UAE, with about two, three or more deals monthly
At the end of last year, IHC had $3.8 billion in assets, about four times more than a year earlier, while profits rose 159% to 3 billion dirhams or $821 million in 2020.
Syed Basar Shueb, IHC's Abu Dhabi-based CEO and managing director, said there have been conversations with "a few" brokerages to start covering IHC as soon as this quarter.
International Holdings Company PJSC stock is currently gaining. IHC: ADX is up 1.57%