Gold VIP signal sellers are a team of 15 expert technicians who claim to provide a 30% return on investment with account management services. Most of the trades are on metal gold and come with a strict stop loss. There are certain demerits to the system that has rendered the service useless in the current state.
There is no mention of price. A WhatsApp group is available, which is free to join. By joining, you can search the other contacts, reach out to the current members, and ask for their opinion on the service.
Gold VIP Signal Trading Strategy
From the trading history, we can see the company opens up orders in the same direction if the trade goes in the negative. This type of strategy fails when the market trends in one way, which happened on May 4, 2021, where subsequent sales on XAU/USD became detrimental. With no stop loss in place to control the amount of exposure the trade ended in the negative.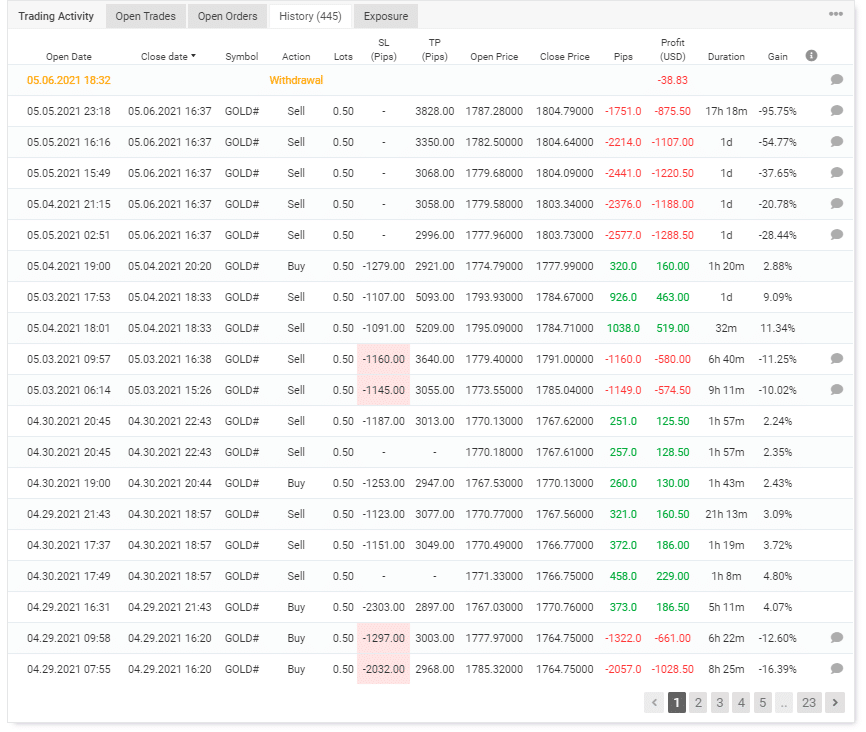 The trading history shows short positions on gold that turned into a loss. After the signal providers had a subsequent series of profits, they may have become extra confident in their strategy. The seller initially trades on multiple currency pairs, but later on, he focuses on the precious metal, probably in a bid to match the advertising name of the signals.
Gold VIP Signal Features
The signal providers use a trend following strategy on the H4 charts. They use price action patterns which include support and resistance, Fibonacci, and other technical indicators to predict the future of an asset. As they trade on the bigger time frame, the stop loss and take profit are wide, and it may take some time for the instrument to hit your target. Trading is done on XAU/USD, also called gold and other forex pairs. There are detailed instructions on the website stating how much lot size a trader should use depending on his equity. Trade management techniques are also available.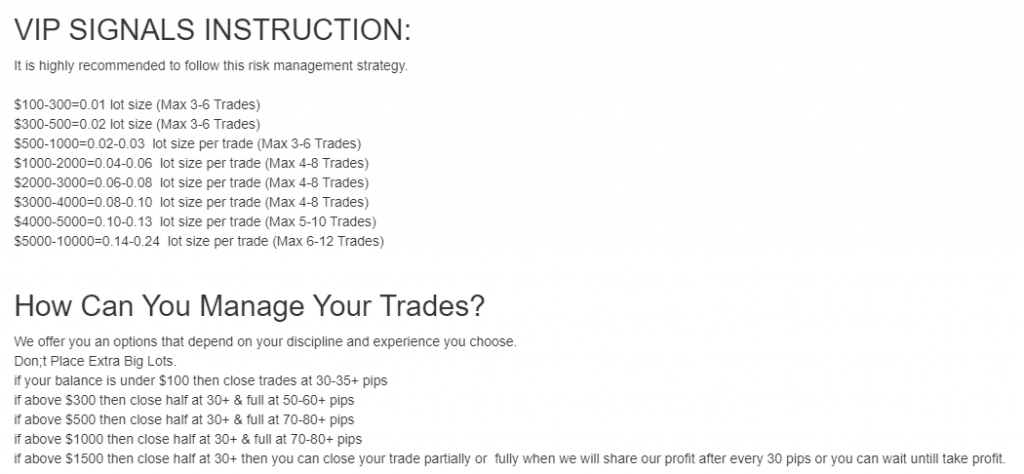 The company solely leaves all the implementation on the user's end through the trading signals. Therefore, profitability is also dependent on the subscriber. They also expect a trader to be mentally prepared, have a basic knowledge of the financial markets, and take spreads or commissions into their own account. There is no guarantee of making profits as the signal providers constantly warn users of possible consistent losses. For entering the green territory, you might have to use their service for a long duration.
Account Management
The website mentions account management services that start at a minimum of $1000. However, there is no information on how to start. Gold VIP signal aims to keep your funds at a regulated brokerage, which means you have to transfer your cash to them. They promise a return of 30% on any account and profit-sharing of 40:60, i.e., 40% in favor of the company.
Gold VIP Signal Backtesting results
As Gold VIP Signal is a signal service that provides trades from manual trading, there are no back-testing results. Before actually presenting their system to traders, the providers did not test their efficiency on a demo portfolio.
Gold VIP Signal Live Trading Results
Verified trading results are available on Myfxbook, which show a nice curve from March 2021 up until May 4, 2021. After that, the account experiences a horrific drawdown, which wipes out the whole equity from a single trade that runs with no stop loss. The provider seems to leave a few trades here and there without any proper exit point, which proves to be detrimental.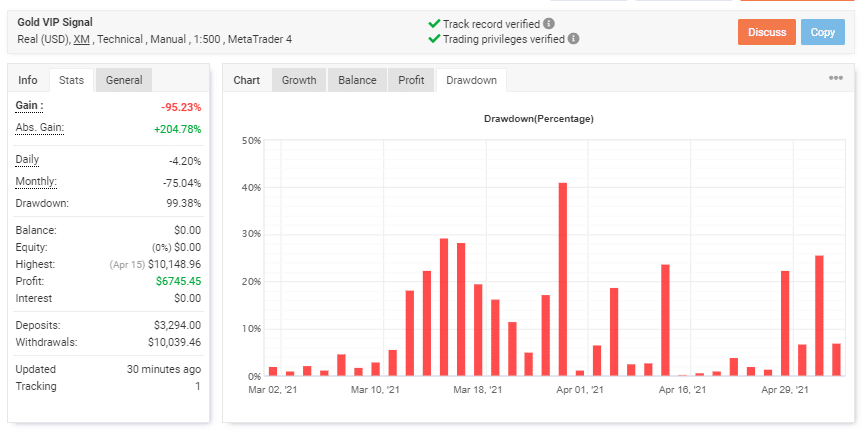 The daily drawdowns are substantial on the chart. There are profits and withdrawals.
We can deduce the following useful observations from the service:
Profit factor and win rate. A profit factor of 1.45 with an average win rate of 83% and 72% for long and short trades is perfect. With such a risk-reward ratio, the required percentage profitability hangs around 40%. The signal service is way above this mark
Deposit and withdrawals. Traders made total funding of $3294 and cash out of $10039. Frequent withdrawals would hint that the trade is afraid of margin calls due to risky strategy.
Gold VIP Signal Reputation
You can see ads of various brokers at Gold VIP signal webpage, which are affiliate links that will lead you to their website. It seems that the provider is more focused on making easy money rather than filling the page with helpful information. There is no transparency on who is leading the signals team. The website says 15 expert technicians coordinate and provide the signals, but the social media group only has two admins with a handful of members.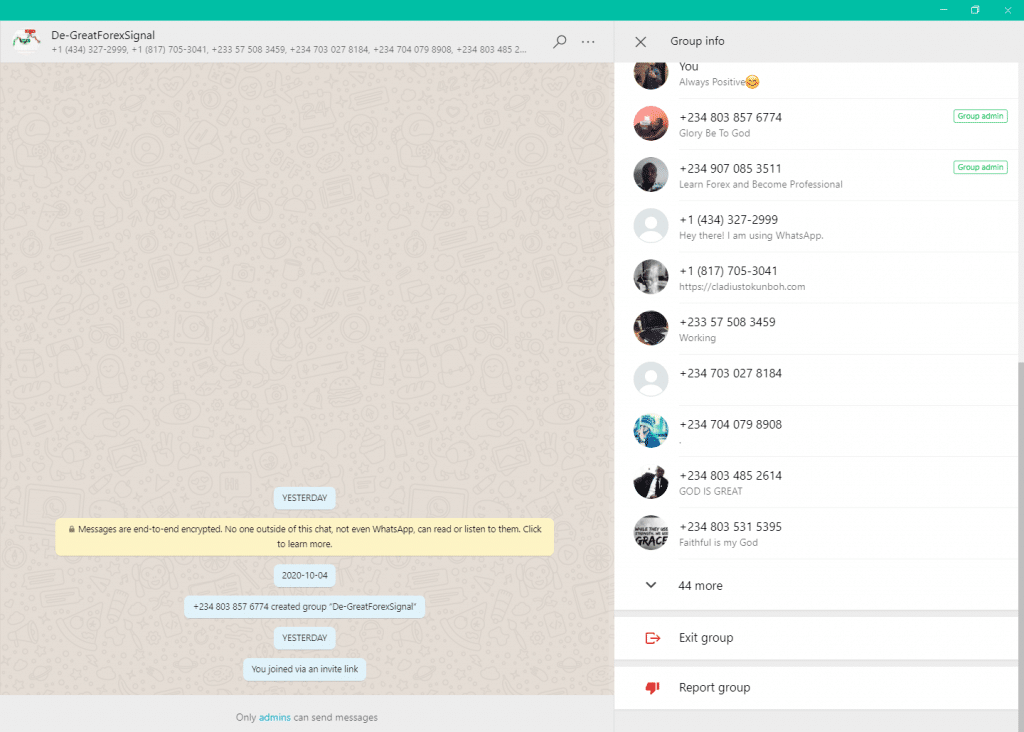 The company aims to hold your funds on regulated brokers but does not state which ones.
Despite all negativity of the Gold VIP signal, providers do mention associated risks that come with their service at the bottom of every subsection of the website.
Gold VIP Signal Review Summary
| | |
| --- | --- |
| Strategy | 2/10 |
| Functionality and features | 3/10 |
| Trading results | 2/10 |
| Reliability | 3/10 |
| Pricing | 3/10 |
Conclusion
Trading signals are a source of making money without going through the trouble of analyzing the markets on your own. Before paying for any service, ensure that the providers have verified their trading records through notified websites such as Myfxbook. A trader can also ask for an investor password, which might be available with some. In the Gold VIP signal, we can determine the efficiency that puts the signals at the negative end of the investment perspective.