Ethereum price retreated in the overnight session after having a remarkable rally that pushed it to an all-time high. ETH is trading at $3,255, which is lower than Monday's high of $3,455. Its total market cap has surged to more than $377 billion, making it bigger than banks like Goldman Sachs, Citigroup, and Bank of America.
Ether surges to an all-time high
Ethereum has had a remarkable surge in the past few years. Last year, the price crashed to below $100 amid the overall cryptocurrencies and stocks sell-off. The currency then started a major rally after the Federal Reserve unleashed its easy-money policies.
The bank lowered interest rates to zero and launched an open-ended quantitative easing (QE) program. Through QE, the bank is printing money at a rate of $120 billion per month and acquiring Treasuries and mortgage-backed securities.
Further, the American government launched major stimulus packages to support the economy. The government has already provided more than $6 trillion in this stimulus. Therefore, with all this money flying around, all asset classes have surged. Stocks are at an all-time high while the total value of cryptocurrencies has surged to more than $2 trillion. Commodities like lumber have also risen substantially.
Ethereum adoption high
Ethereum price has also surged because of the overall user adoption to its network. For starters, Ethereum is a blockchain project that allows developers to build decentralized applications (dApps) using smart contract technology. In the past, the project used proof-of-work (PoW) to mine new ether. This is the same technology that Bitcoin is built on.
Recently though, the network has shifted to proof-of-stake (PoS) through the ETH 2.0 update. As a result, more developers have shifted to the network. This is evidenced by the fast-growing decentralized finance (DeFi) industry.
DeFi is an industry that allows developers to build financial companies that are decentralized. For example, platforms like Uniswap and Sushiswap enable people to exchange their ERC tokens without passing by a centralized platform like Coinbase. Similarly, platforms like Aave allow people to invest and borrow money online.
The industry has grown to have millions of users globally and more than $77 billion in total value locked, according to DeFiPulse. A look at the most significant projects like Maker, Aave, Uniswap, SushiSwap, Curve Finance, Polygon, and Yearn — they are all built on Ethereum.
Biggest DeFi projects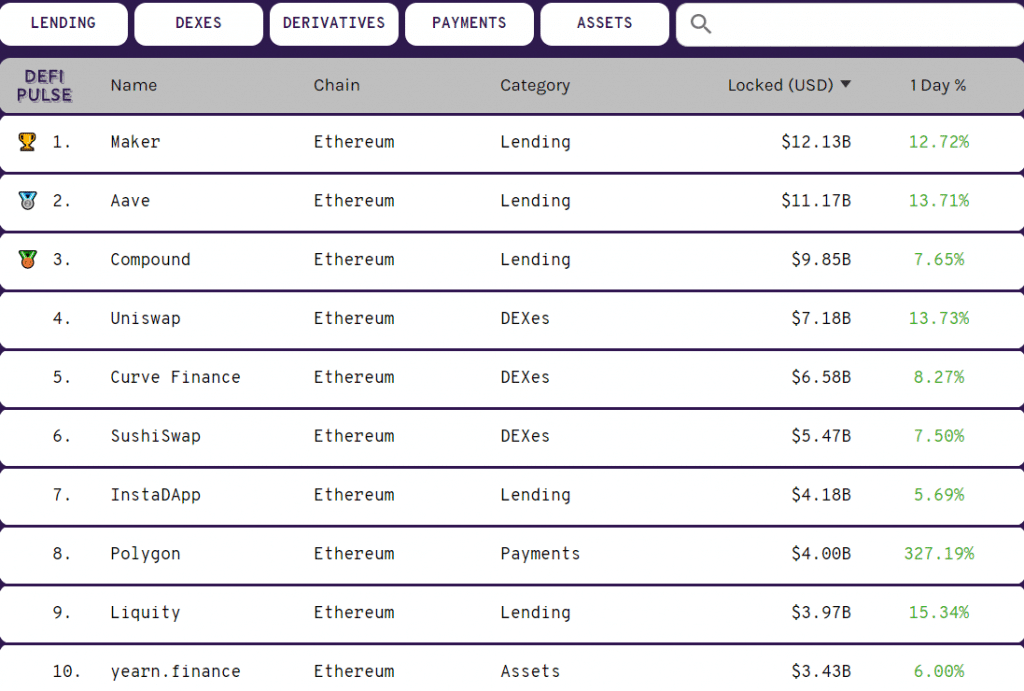 The use-case of Ethereum's blockchain is limitless. Recently, many developers have used it to build projects for non-fungible tokens (NFT).
However, Ethereum is facing substantial competition from upstarts that promise speed, lower cost, and interoperability. Some of the fast-growing projects are Solana, Polkadot, Cardano, and Elrond, among others.
So, what next for Ethereum prices? A scientific calculation by Long Forecast shows that Ethereum's price will end the year at $14,000. They also expect that it will surge to $21,000 by July next year. Another estimate by Wallet Investor predicts that ETH will surge to $3,982 this month and remain above $4,000 in 2022.
Ethereum price forecast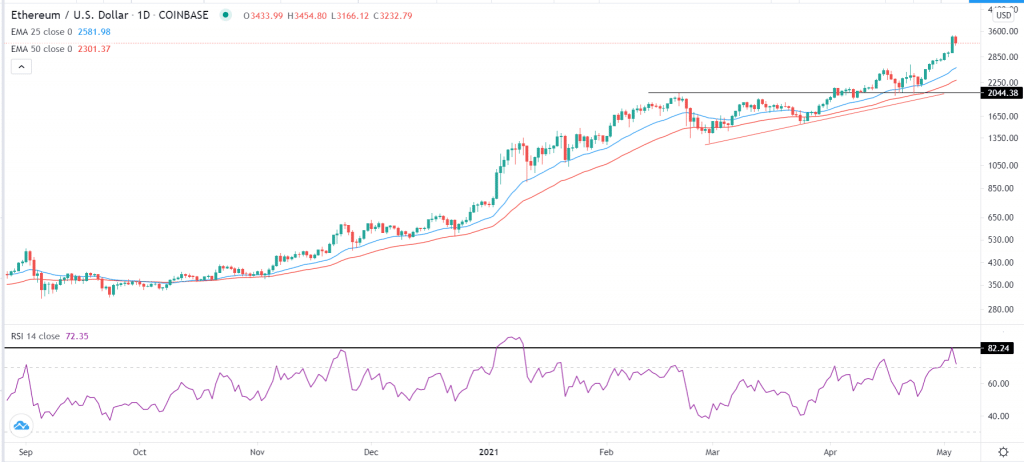 ETH has been on a solid upward trend, as shown on the daily chart above. It remains above the critical resistance at $3,000 and all moving averages. The Relative Strength Index (RSI) surged to the highest level since January this year. Therefore, the ETH price will remain in a bullish trend so long as it remains above the fast and slow moving averages. As such, after crossing the psychological-important resistance at $3,000, there is a high probability that bulls will start targeting $3,500.