The Crocs (NASDAQ: CROX) stock price surged on Tuesday after the company reported better earnings and upped its forward guidance. The stock rose by as much as 20% and rose to an all-time high of $100.8, bringing its market cap to more than $6.5 billion.
Crocs becomes fashionable again
Crocs is an American company known for manufacturing unique shoe products for men, women, and children. Some of its products are clogs, sandals, flip flops, and sneakers. Most of these products are mostly worn at home. This has made the company benefit from the coronavirus pandemic as more people stay at home. Further, over the years, the company has broadened its distribution channel to online shopping.
On Tuesday, Crocs published strong earnings that propelled its stock to an all-time high. The company said that demand for its products has soared to an all-time high. This led to quarterly revenue of more than $460 million, a 63.6% jump year-on-year. This growth happened across all regions while digital sales rose by 75.3% to 32.3%.
Crocs also boosted its forward guidance. The management expects that its revenue growth for 2020 will soar by between 40% and 50%. It also expects that its gross and profit margin will expand this year.
Is Crocs a good investment?
Analysts were generally bullish about Crocs stock price before the company released strong quarterly earnings. In a recent note, analysts at Pivotal Research boosted their estimate from $92 to $100. Recently, analysts at B.Riley reiterated their bullish call on the company and boosted their outlook to $83. Those at UBS, Loop Capital, and Stifel have also been bullish about the stock.
There are several reasons cited by these analysts. First, the company has been a major beneficiary of the coronavirus pandemic as more people stay at home. That has boosted demand for its products, especially in the developed market. Indeed, in the Americas, revenue grew by more than 82% in the first quarter.
Second, analysts cited its strong reception in Asia, where it had minimal growth before. Third, Crocs has been appreciated by young people who love its colorful designs. This has been boosted by the fact that the company has worked to maintain strong growth but lead inventories. For example, the firm inventories increased to just $196.5 million as of December. As a result, many buyers now see Crocs as collectible assets.
Most importantly, the company has refocused its business, which has boosted its margins. Indeed, in the most recent quarter, Crocs managed to expand its gross margin to 55% from the previous 47%. Operating margins rose by 27%.
Turning to valuation, the company has a forward price-to-earnings ratio of 18.6, which is relatively cheap considering its strong growth. Better, its forward EV to EBITDA ratio of 16 is lower than that of some peer companies like Steve Madden and Sketchers.
Crocs stock price forecast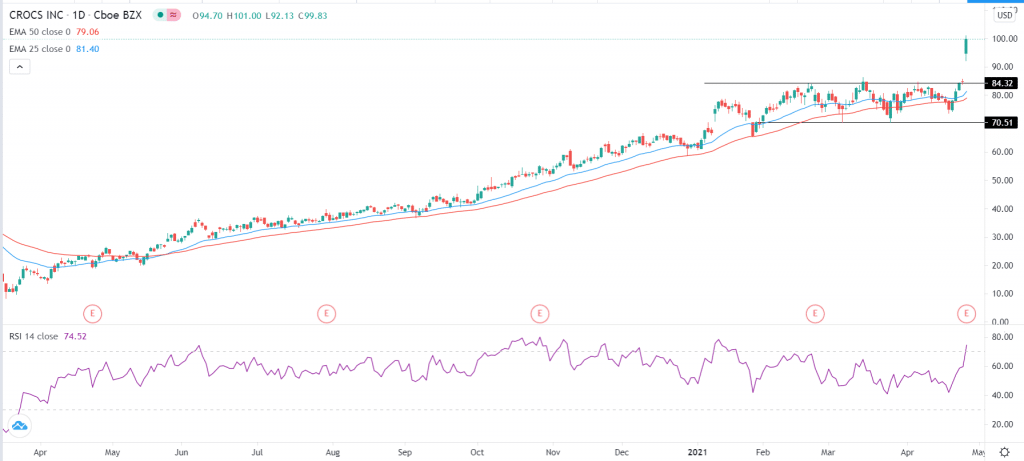 The daily chart shows that the Crocs stock price has been on a strong upward trend lately. A few days ago, the stock surged above the important resistance at $85, and on Tuesday, it reached the psychological level of $100. The stock is being supported by the 25-day and 50-day exponential moving averages (EMA while the Relative Strength Index (RSI) has moved above 70. Therefore, in the near term, I suggest that the stock will have a short pullback as investors attempt to fill the up-gap made on Tuesday. Nonetheless, the CROX stock price will remain in a bullish trend for a while.