China's manufacturing purchasing managers' index plunged from 51.9 in March to 51.1 in April, according to the National Bureau of Statistics press release. The index was below the projected 51.8 signaling a slower economic recovery.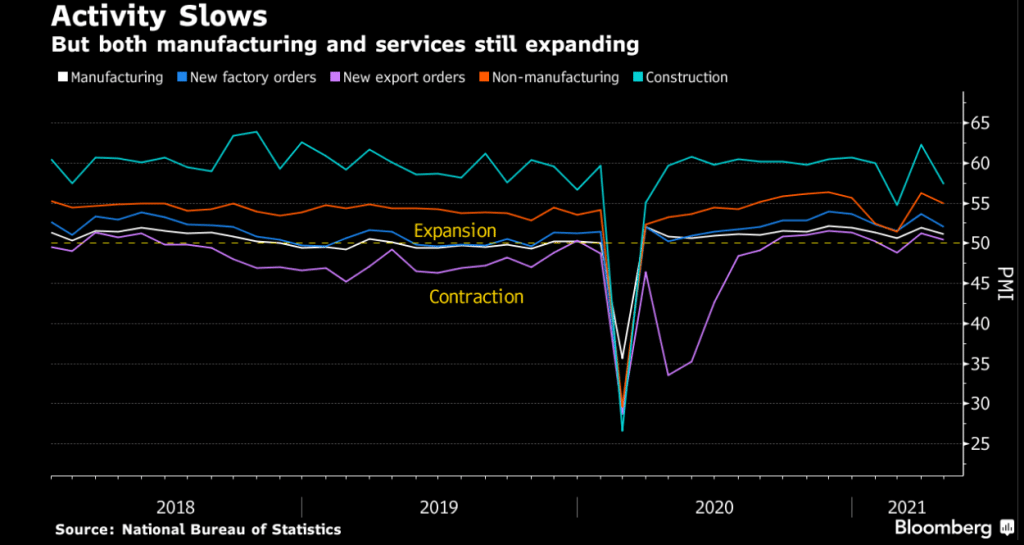 Non-manufacturing gauge declined to 54.9, less than expected 56.1
New export orders sub-index eased from 51.2 in March to 50.4 in April, while new orders remained at 52.
The manufacturing employment sub-index hit 49.6 while its non-manufacturing counterpart was 48.7.
The construction sub-index relating to non-manufacturing activity shed 4.9 points to hit 57.4.
Indexes that track medium and large businesses declined in April, despite that for small firms rising by 0.4 percentage points to 50.8.
The factory data invites caution of China's outlook despite the economy showing a balanced growth in Q1.
Problems that include chip scarcity, global logistical issues, cost pressures, and high freight rates have been highlighted in China's growth.
The factory outlook suggests the need for gradual tapering of China's stimulus needed to support growth.
China's stocks are currently declining as the Yuan gains. CSI 300 is down 0.79%, HSI is down 1.97%, USDCNY is down 0.10%.